Text and photos by Gadjo C. Sevilla
Delivering on the promise of allowing access to the 2010 Vancouver Olympics on select mobile devices, Bell Mobility's network  and with its Live TV app offers Canadians direct access to live Olympic events  while the WOW (Wireless Olympic Works) app delivers   up-to-the-minute updates through Bell's HSPA network. Here's our review of the entire experience and what its going to cost you.
Live TV
Using Samsung's Omnia II smartphone which is the official handset of the 2010 Olympics and which runs Windows Mobile 6.5, we took time to discover Bell's Olympic offerings. The first application we tried out was  Live TV which enables subscribed users real time access the following channels.
CTV – Olympics coverage
RDS
TSN
Sportsnet
V
Omni 1 and Omni 2
Olympic Venue Camera 2
Olympic Venue Camera 1
The application turns the Omnia II's already impressive AMOLED screen into a mini-TV which when flipped on its side in widescreen mode proves to be extremely viewable for the most part.
The application takes about two minutes to start and find the live feed. Once the video comes in, it will appear in a small window until it buffers enough information and then it goes widescreen.
The Omnia II does not come with any way to securely prop up the phone while watching so we improvised using a metal widget that came with our Agent 18 iPhone case. Without this we would have had to hold the phone for a prolonged period of time which can be tiresome.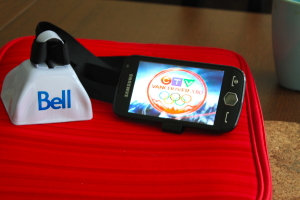 "As long as that venue's lights are on you're getting that venue live, without any commercials, without any commentary," said Loring Phinney, the company's vice-president of corporate and Olympic marketing.
There's a $10 fee for existing Bell customers to get access to the video streams, while new customers can get it thrown in if they sign up for a special Olympic-themed package, or a bundle of services. This price does not include data fees.
Bell says there are 40 devices that can display the Olympic videos, including some non-smartphones. For those non-smartphones, Bell has a $10 data package that includes unlimited transmissions.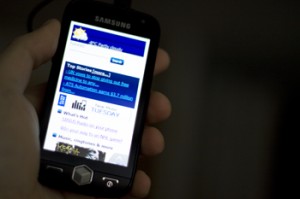 Bell figures that one minute of video viewing  can use nine megabytes of data, which adds up to 540 megabytes an hour. This is easily burn through a month's data allowance.
Olympic events with more action and speed like figure skating will at times seem jagged and a bit blurred. There also seems to be a time delay from what is shown on TV.
The TSN feed on the Omnia II was about 24 seconds behind the Rogers cable TV feed. Still, not bad for the convenience of having access to the games anywhere you have a clear Bell signal.
There are DVR-like controls that allow you to pause and watch the program from where you last left off which but the real attraction of this content is the variety of live events to watch just watch your bandwidth.
WOW (Wireless Olympic Works)
Wireless Olympic Works is another Omnia II application that integrates the latest news, weather, medal count, news and events into one simple interface. WOW is a well though-of and executed application with a lot of cool features. For people who can't sneak away long enough to watch some of the events, the quick access to information on WOW is convenient and less taxing on your bandwidth.
The medal count feature can be accessed by Gold medal rankings, Sport rankings and by Sports rankings. News is presented plainly and clearly with some small photos thrown in for good measure. The Calendar feature and the Weather are very basic but are nice to have additions.
Overall Bell's Live TV and Wireless Olympic Works applications on the Omnia II offers a workable and convenient complement to their ongoing TV and online coverage of the games. That they were able to pull it off on kludgy Windows Mobile 6.5 is even more surprising.
There's something to be said about the convenience of being able to watch history unfold from wherever you are by simply tuning in with your phone. Bell's network and Samsung's hardware work together and delivers provided users are willing to pay for the bandwidth an the convenience.