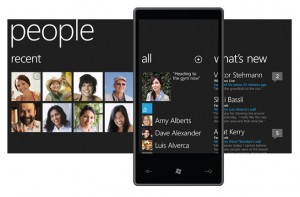 Microsoft recently revealed the new direction it is taking with its smartphone operating system. Launched by CEO Steve Ballmer at the  recent 2010 Mobile World Congress in Barcelona, Spain – Windows Phone 7 Series is the new challenger to Apple's iPhone OS, Palm's WebOS, Google's Android and Blackberry's mobile OS.
"Today, I'm proud to introduce Windows Phone 7 Series, the next generation of Windows Phones," said Steve Ballmer, chief executive officer at Microsoft. "In a crowded market filled with phones that look the same and do the same things, I challenged the team to deliver a different kind of mobile experience. Windows Phone 7 Series marks a turning point toward phones that truly reflect the speed of people's lives and their need to connect to other people and all kinds of seamless experiences."
It seems Microsoft heeded the suggestion of many analysts that it should combine its attractive Zune interface into the mobile phone functionality.
Windows Phone 7 Series is a departure from the usual and dated look of Windows Mobile which still resembles desktop Windows 95. The rejigged Windows Phone interface now features slick typography, smooth visuals and photos as part of its visual and navigational language.
Microsoft is also clearly differentiating its mobile OS from the App-focused phones of its competitors.
With this new platform, Microsoft offers a fresh approach to phone software, distinguished by  design and integrated experiences that bring to the surface the content people care about from the Web and applications.
For the first time ever, Microsoft will bring together Xbox LIVE games and the Zune music and video experience  exclusively on Windows Phone 7 Series. Partners have already started building phones; customers will be able to purchase the first phones in stores by holiday buying season of 2010.
For the new OS, Microsoft went back to the drawing board on everything from raw materials, to how the company works with their  phone partners, to a complete redesign of the operating system. More than a new user interface,  Microsoft has evolved its entire offering to take full advantage of converging technologies.
A special implementation of Bing Search offers content-specific results. Built-in functionality for photography can automatically synchronize photos to PCs and photo storage on the Internet, eliminating the common hassle of getting pictures off of a phone. Microsoft Office productivity software and other personal productivity features are also tightly integrated.
Below is a sampling of the feature areas of Windows Phone 7.
•
People. This hub delivers an engaging social experience by bringing together relevant content based on the person, including his or her live feeds from social networks and photos. It also provides a central place from which to post updates to Facebook and Windows Live in one step.
•
Pictures. This hub makes it easy to share pictures and video to a social network in one step. Windows Phone 7 Series also brings together a user's photos by integrating with the Web and PC, making the phone the ideal place to view a person's entire picture and video collection.
•
Games. This hub delivers the first and only official Xbox LIVE experience on a phone, including Xbox LIVE games, Spotlight feed and the ability to see a gamer's avatar, Achievements and gamer profile. With more than 23 million active members around the world, Xbox LIVE unlocks a world of friends, games and entertainment on Xbox 360, and now also on Windows Phone 7 Series.
•
Music + Video. This hub creates an incredible media experience that brings the best of Zune, including content from a user's PC, online music services and even a built-in FM radio into one simple place that is all about music and video. Users can turn their media experience into a social one with Zune Social on a PC and share their media recommendations with like-minded music lovers. The playback experience is rich and easy to navigate, and immerses the listener in the content.
•
Marketplace. This hub allows the user to easily discover and load the phone with certified applications and games.
•
Office. This hub brings the familiar experience of the world's leading productivity software to the Windows Phone. With access to Office, OneNote and SharePoint Workspace all in one place, users can easily read, edit and share documents. With the additional power of Outlook Mobile, users stay productive and up to date while on the go.The question is, will Windows Phone 7 Series be able to make up for lost time and attract customers away from the established systems set by Apple, Google, Blackberry and Palm?

By the time the new Windows Phone OS ships many of these mobile operating systems would have released significant updates. Things are going to get really interesting in the mobile space.