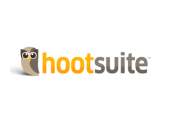 HootSuite Media, the Vancouver-based web development company, will use Google's open media platform Android as its latest social media and web marketing platform.
In that light, HootMedia has snapped up Swift App, the Twitter app for Android, and it has acquired Swift App, Inc. the company behind the app and a specialist in Android App development.
What's more, HootSuite is now integrating other web tools, like Foursquare and MySpace, into its social media armoury.
It's all about quicker development for the growing Android market, HootSuite says, and greater support for a hot emerging media platform.
HootSuite has in fact released a new social media dashboard for Android handsets, based on Swift App.
The HootSuite for Android app lets you update multiple Twitter profiles, do real-time searches and keyword tracking,and examine click-through stats for messages directly from the phone.
Future plans for the Android app include Facebook integration and other tools to benefit not just social media mavens, but agency marketers, industry consultants, and collaborative work teams from businesses to governments.
HootSuite CEO Ryan Holmes is enthusiastic about the growth potential for Android (he's enthusiastic about a lot of things, including lots of fun nights out and becoming 'mayor' of more places via Foursquare), in the marketplace, saying "Android development is a key component to our business strategy and we are excited about the revolution in the mobile industry catalyzed by the Open Handset Alliance. With tens of thousands of phone shipping daily from dozens of manufacturers, we see no end in sight for this open standard. "
The acquisition sees Swift App developer Sebastian Delmont joining HootSuite as a mobile adviser. Delmont says, "I am delighted to see HootSuite coming to Android, merging their amazing social media platform into the fastest Android Twitter client to produce one of the best mobile Twitter experiences."
Terms of the acquisition deal were not disclosed.
The Android mobile platform (now available on handsets from a variety of manufacturers members of the Open Handset Alliance, like the Motorola Droid or Google's own Nexus One – manufactured by HTC and now available in Canada is open source under an Apache license, so vendors can add proprietary extensions without submitting them back to the open source community.
The app is available in Lite (free) or Full (paid) versions from the Android Market
In addition to the Android app, HootSuite offers a popular social media dashboard web app, two versions of iPhone Apps, plus three varieties of desktop apps.