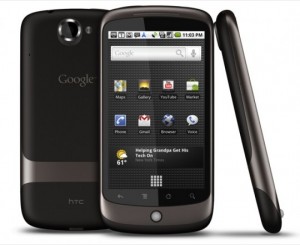 Big news for Canada! Google has started selling an unlocked version of the celebrated/reviled Nexus One that is compatible with Canadian carrier, Rogers Wireless (GSM 3G 850/1900/2100MHz).
Listing for US$529.00, $556.16 total with (international) shipping to Canada, the unlocked phone is clearly defined to work with Rogers Wireless, and will likely work with Telus and Bell as well, Canada's other major carriers.
Regarded by enthusiasts as "the ultimate Google Android smartphone," the Nexus One was built by HTC specifically from Google's design specs. The device runs on a speedy 1GHz Snapdragon processor and features the best screen in the market today, a 3'7 inch 480 by 800 AMOLED display.
The Nexus One also sports the very latest version of Google's Android OS, 2.1, which is faster and has a better browser and better support for Google Maps with Voice Navigation than earlier versions. The Nexus One also has two microphones for enhanced clarity, a 5 Megapixel camera and the ability to play back video files at 720p.
Originally released in early January for T-Mobile in the US, the Nexus One featured limited Great White Northern compatibility with Mobilicity and Wind Mobile in Canada.
With Google entering the hardware space for the first time with the Nexus One, many industry watchers and stakeholders questioned the search engine giant's commitment to 3rd party vendors churning out smartphones featuring Google's software platform.
As it happens, there are several Android phones on the Canadian market, though only the new Nexus One from Google itself features Google's latest and greatest OS. Users of earlier Canadian Android phones are stuck with older versions of the OS, are unable to make use of newer features and updated applications, even if the phone hardware is capable of running such updates.
To date, the lack of paid Android apps (aka the good stuff) in Canada is also another issue that has hindered Canadian consumers from embracing Google's OS whole-heartedly. Google is set to rectify this shortcoming by offering paid apps in Canada (finally) starting this week