Canadian smartphone maker and mobile media company Research In Motion (RIM) is at it again, with news today that the company will acquire QNX Software, the Ottawa-based developer.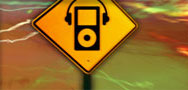 Among other projects, QNX develops and deploys the Neutrino open platform operating system, used in telecom, defence, aerospace and the automotive sector. Its Aviage multimedia suite (another automotive product) supports and interacts with other portable media devices, like the Apple iPod.
And so mobility and connectivity are surely important buzzwords behind this latest purchase, which may see QNX bring RIM into the smart car market!
Here's why: among its many accomplishments and partnerships, QNX has just this week been named in the Strategic Partnership of the Year by the Ottawa Centre for Research and Innovation, OCRI.
QNX's partner in this award-winning project is Alcatel-Lucent, and the two partners were honoured for their combined efforts and success transforming a car into a first-class citizen of the cloud!
So, the development of new mobility, media delivery and connectivity tools, along with the integration of smart devices across some sort of intelligent network will surely continue.
(RIM, QNX, Adobe and a host of other companies, by the way, are all members of what's called the Open Screen Project, where they're working to develop a consistent runtime environment and user experience across mobile phones, desktops, and other consumer electronics devices.)
Back up a few years, and some of you may recall that QNX (at the time a small and little known OS developer in Canada) was an apparent partner with Amiga – yes, Amiga, the (in)famous computer maker and developer of what were at the time revolutionary video, animation and graphics creation products!
But that partnership didn't quite turn out as many had hoped; in fact, it turned a little sour, even bitter, certainly contested. At the time, the Amiga multi-media consumer interface had a great looking future, and it was hoping to get some great support through the QNX operating system.
Flash forward a decade or so, and Amiga is, well, not really here. The AmigaOS was last owned by Hyperion.
But QNX is still very active in real-time OS and embedded systems, and the company is an important contributor to developments in multimedia and acoustics, and so this acquisition by RIM is another interesting step in its history. (QNX itself was previously acquired by Harman International, an audio and infotainment company; RIM is now the latest owner.).
And it is another interesting step by RIM, which has snapped up a number of media and connectivity companies recently, including Viigo, Chalk Media and others.
Here's what RIM's Co-CEO Mike Lazaridis said about the latest news:
"RIM is excited about the planned acquisition of QNX Software Systems and we look forward to ongoing collaboration between Harman, QNX and RIM to further integrate and enhance the user experience between smartphones and in-vehicle audio and infotainment systems. In addition to our interests in expanding the opportunities for QNX in the automotive sector and other markets, we believe the planned acquisition of QNX will also bring other value to RIM in terms of supporting certain unannounced product plans for intelligent peripherals, adding valuable intellectual property to RIM's portfolio and providing long-term synergies for the companies based on the significant and complementary OS expertise that exists within the RIM and QNX teams today."
So, what's your tech? What do you suppose these "unannounced products" are?
We'll have to wait for at least a month or so, as the deal is subject to regulatory approval, which could be granted within 35-45 days.