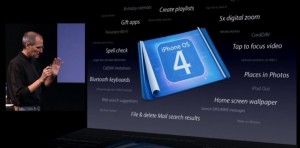 By Gadjo Cardenas Sevilla
Apple recently revealed plans to launch iPhone 4.0, the next iteration of its popular iPhone and iPad operating system. The update brings 100 new features but most notable is multitasking, which allows for quick and efficient navigation between open applications, apparently without affecting battery life too much. Apple is also making an ad play as well as checking into social gaming with the upcoming release of its mobile OS.

"iPhone OS 4 is the fourth major release of the world's most advanced mobile operating system," said Steve Jobs, Apple's CEO. "We're delivering over 100 new features, including multitasking, folders, a unified inbox, deeper Enterprise support, and an iPhone version of our iBooks reader and online iBookstore."
Set to ship in June, iPhone OS 4 will work only on the iPad, iPhone 3GS and the most recent version (late 2009) of the iPod Touch. The iPad version of the software is expected to come in the fall. Earlier iDevices, namely the original 2G iPhone and the iPhone 3G will be able to take the upgrade but will not have access to many of the new features, including multitasking. Apple is expected to launch another version of the annually-upgraded iPhone in June.
Aside from cut-copy-and-paste, no other currently-lacking feature has resonated more with iPhone users more than multitasking, which will soon enable non-Apple apps to run concurrently, as opposed to exiting each app before running another. The problem with multitasking is that it can bog a system down and drain batteries more quickly life, problems which Apple claims to have solved. Competing smartphone operating systems from Palm, Google and Microsoft all have multitasking capabilities, though each requires "task managers" and tend to become sluggish when too many apps are running at once, just like desktop PCs.
iPhone OS 4 provides developers with seven new multitasking services, including background audio, so apps like Pandora can play music in the background, and VoIP, so internet phone apps can receive a VoIP call even when the iPhone is asleep running other apps.
Also news are folders, which will help users to better organize and access their apps. Reportedly, simply dragging one app icon onto another will create a new folder. Thus, a single folder full of games will appear on the iPhone icon-based menu, rather than listing all games splattered across three or four or nine screens.
Apple also released two extended services of note to developers. First is iAd, Apple's new mobile advertising platform, will allow developers easily embed iAd-vertisements within apps, with ads dynamically and wirelessly delivered to the device. In a Google-ish capacity, Apple will sell and serve the ads,and developers will receive an industry-standard 60 percent of iAd revenue.
Secondly, an extended service called Game Center will allow achievements, game interaction and social multiplayer experiences in iPhone games.
New enterprise features in iPhone OS 4 include improvements in security, scalability and compatibility. The new Mobile Device Management service can be integrated with third party servers to wirelessly configure, query and even wipe or lock managed iPhones, and iPhone OS 4 enables enterprises to securely host and wirelessly distribute their own in-house developed apps to employees.