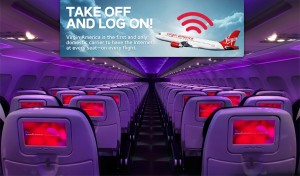 The airline known for its cool interior mood lighting,  fast onboard Wi-Fi access and delicious food options is headed to the Great White North. Virgin America announced late Tuesday that it would be debuting its first international route starting this summer with flights to Toronto.
Service to and from Canada's largest city will be offered on routes between San Francisco and Los Angeles beginning June 23. Virgin America's CEO David Cush said in a statement, "Toronto is one of the largest cities in North America and a world-class travel destination — with strong ties to California — most notably in the entertainment and high-tech sectors."
Virgin America has been the choice of tech savvy travellers who relish the fast online connectivity, great service and in flight perks. Hopefully Virgin's entry into the Canadian market will shake up competition and urge other airlines to give customers better, more-connected service which has been sorely lacking in the recent years of the economic downturn.
Many airlines Canadian travellers use, charge for everything, even the rental of cheap headphones and basic in-cabin meals. With quality and good value airlines like Porter and Virgin offering more pleasurable experiences, some competition is expected.
This is just another move by Virgin America, which just announced new service to Orlando starting August 19 while ending Orange County flights. The airline is expected to announce up to five more destinations by the end of this year. Virgin America currently services New York City, San Francisco, San Diego, Los Angeles, Las Vegas, Washington D.C., Seattle, Boston and Fort Lauderdale.