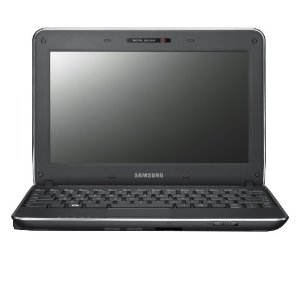 Buying a netbook in 2010 has become an extremely tedious task. Most netbooks offer similar if not, exactly the same features and specs. For one thing, they mostly run on identical 1.6 Ghz Atom powered processors and offer the same lightweight mobile computing options at very similar prices.Samsung's a bit newer to the game than older players like MSI, ASUS, Dell and Toshiba but it can be considered a true contender when you look at their N220 netbook that's got the features everyone else has already got but offers twice the battery power in nearly the same size.
Samsung actually makes a number of components that go into netbooks. Including, but not limited to, the screen, the RAM, the hard drive and the batteries which allows them better integration overall. Sold in the US for $370.00, the N220 is actually on the higher-end in terms of price and we were curious to find out why.
We got to spend some time with Samsung's N220 and realized early on that despite its small size and totable weight, it feels more like a full featured notebook than a scaled down netbook. Solid build quality was surprising but not unexpected given Samsung's reputation for designing quality consumer electronics. When we say solid, we mean that the plastic encasing the device is firm and doesn't have much "give" when pressed in certain areas. It feels well built an isn't toylike or cheap to the touch.
Netbooks are ideal for taking down notes, surfing on the go and for working on lightweight programs and applications. Aside from portability, the feel of the keyboard and the screen, battery life is the biggest feature netbook buyers should look for in devices that are made for traveling and we've been impressed with the 7 hour battery life of the N220. Samsung says you can get 11 hours out of a full charge and we figure that is attainable provided you shut off the Wi-Fi, lower the screen brightness and have only a few programs open.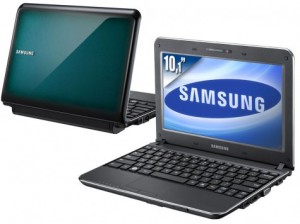 The Samsung N220 includes a 1.66GHz N450 Atom processor, 1GB RAM, 250GB HDD and Windows 7 Starter. Pretty standard stuff in terms of netbook specs and we would suggest upping your RAM to 2GB, this is a straighforward and relatively inexpensive upgrade that will really speed things up going forward and enable better multitasking overall.
Kudos to Samsung for including a glare-free, matte screen. We're so tired of all the glossy screens that are so reflective that they are rendered useless when you try to view them outdoors (or in an airplane where constantly changing lighting conditions are less than ideal). Screen technology is Samsung's forte and they supplied the N220 with a very readable, reasonably bright and multi-functional screen that does okay with video and text as well.
Strangely enough, we've looked everywhere netbooks are sold (FutureShop, Best Buy, The Source, Canada Computers) and have not seen the N220 for sale which is odd considering it isn't exactly a recent release having been available in the US market since December 2009. Either they sell out quickly or Samsung is taking its time to release this model to a wider market.
For an all around netbook in the $ 350 to $450 price range with extended battery life and a matte screen and an above average keyboard, the Samsung N220 which comes in red or green, is a great option for someone looking for a highly mobile yet capable device that has all the key features of the competition but with an excellent battery life.
Rating: 4 out of 5