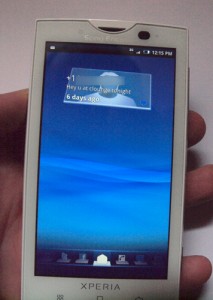 When you consider all that's happened in the ongoing smartphone arms race over the last couple of years, it's surprising that it's taken Sony Ericsson so long to bring out a handset meant to compete with the best. Whether the company oscillated on what direction to take or not matters little now that they've made a statement with the Xperia X10.
The Xperia X10 is yet another sleek touchscreen smartphone that runs on Android, though it's version 1.6, instead of the 2.1 the Motorola Milestone and Nexus One use. The discrepancy has partly to do with the ongoing manufacturers' trend of applying a proprietary skin over Android (think Motorola Blur as well), which plays a big role in the pros and cons of this phone.
With a 4" touchscreen, the Xperia X10 is noticeable — perhaps even too noticeable. Critics have pointed at the device's size as a drawback, but when placed side-by-side to an iPhone 3GS, the difference is practically negligible. Still, some people we showed it to found the form factor to be a little too big. But when placed beside an iPhone 3GS and BlackBerry Bold 9000, their reaction was more muted.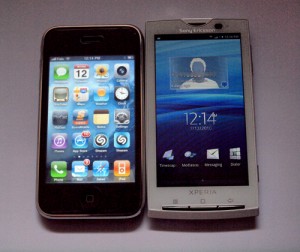 The size is only augmented by the sheer crisp brightness of the phone and Android's graphics. We particularly liked the white model that we reviewed for the aesthetic combination of a pearl white body with an Android colour palette heavy on blues (you can, of course, choose your own wallpaper). The mix works well, and certainly got some attention from others nearby when out in public.
Having said all that, the screen is very prone to smudges and fingerprints, even more so than other smartphones we've used. This can easily be remedied by a few quick strokes with a microfibre cloth, but it can prove to be a nuisance, especially when trying to work with the phone on bright days outside. As there is only the touchscreen keyboard, we were disappointed with both its design and overall performance. At times, the X10 struggled to respond to key inputs, and given the size of the keys in portrait mode, we would've liked that some better predictive text be thrown in to make the job just a little bit easier. This lack of fluidity to the motion of typing and recognition was troubling, though Sony Ericsson could potentially fix this with a software update.
On the top lie the phone's 3.5mm headphone jack, micro-USB port and the power button. On the left side are the volume controls and the instant camera button. Under the screen are the Settings, Menu and Back buttons. While we could use the Settings button to initiate a quick search, we would've preferred that a dedicated search button be added somewhere to bring the Xperia X10 more in line with other Android handsets. At first, we assumed that the magnifying glass icon under the volume buttons might have been the quick search ticket we were looking for, but instead, the icon only indicates that the volume buttons can be used to zoom in and out when in camera mode.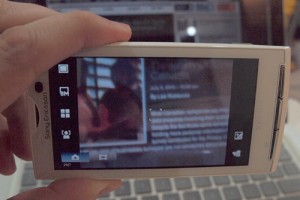 Speaking of which, we should mention that the Xperia X10's camera is one of the best we've seen in a smartphone. The 8.1-megapixels aren't really what make it great, since megapixel counts have less to do with good photos than good sensors and lenses. What Sony Ericsson put together here works well, and the level of customization isn't bad, either. Some features are useful, like the scene modes and metering, while others, like smile detection, are just gimmicky additions. You can also opt to shoot by touching the screen on what you want to focus on. The X10 performs relatively well in lower-light conditions, though we're on the fence on whether having an illuminating LED light is better than an LED flash. Sony Ericsson chose the former rather than the latter, and the results in darker settings are a bit of a mixed bag. We also didn't like that the light couldn't be toggled on from within the screen itself, but forced us to have to keep going back and forth to the Advanced Settings accessed when pressing the Menu button.
We won't delve too much into the music side of things, but the X10 performs fairly well as a music device, though we would've preferred more bass in the audio, as well as a better way to organize songs and playlists. Getting the music onto the X10 is as easy as plugging the X10 into a PC or Mac and loading the tunes onto a microSD card using drag and drop. Unfortunately, doing it with this method sometimes messes with the order of your playlists, especially when doing so with a Mac.
Video fares better, and the 4" display will make any video with even decent quality look fabulous and vibrant. And unlike the iPhone, the X10 will support Flash, so viewing content on video sites is easily done as well. File format compatibility is relatively good, but don't be surprised if certain codecs don't work.
All of your media (music, video and photos) are handled by an application called Mediascape, which is part of the skin Sony Ericsson has applied to this version of Android. It aggregates all your media in a slick interface that will take a little getting used to at first, but proves to be a functional and aesthetically-pleasing method in managing your content.
This element of the skin coincides closely with Timescape, which is the social networking equivalent. Here, we were able to tie-in Facebook and Twitter accounts, along with being able to see the latest photos, videos, music, email and text messages that have been viewed or come through. All of this is displayed in a drop-down tile format that we thought looked cool, though we were surprised at the lack of responsiveness at times when shuffling the tiles up and down. It strangely only occurs when you first touch them because the jittery feedback stops completely once you've started navigating through them.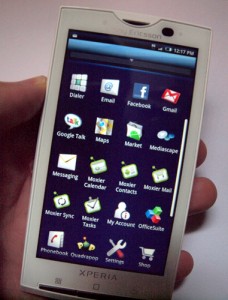 Rogers is offering the X10 for $149.99 on a three-year contract, or you can opt to go without a contract and pay the full $499.99 cost. After spending a week with the X10, we are confident in saying that Sony Ericsson has finally entered the smartphone fight, though it will take time to see how much of a bite they can take out of competitors. The good news is that Android only continues to get stronger, and despite running an earlier version, there is reason to be optimistic.
The challenge with this device is the use of the skin. There are good ideas in what Sony Ericsson is trying to do, but some key features weren't implemented as well as they should've been. Timescape could have been more efficient if other social networking tools like LinkedIn were included out of the box too. In addition, typing should not be as inconsistent as it is, and a little bit more polish on the other elements we've pointed out here would make a big difference.
As of this writing, Sony Ericsson had just released a software update that was meant to resolve some of what experienced, but unfortunately, we weren't able to test that ourselves.
With iPhone 4 looming here in Canada, the Xperia X10's time to shine may be on the wane, or maybe some of the iPhone's recent reception troubles might help Sony Ericsson's cause with this phone. Still, the competition they have to be more worried about is in rival Android handsets — namely the Nexus One and Motorola Milestone. The fusion between hardware and software will matter that much more as Android continues to mature, so while the Xperia X10 is a great start in that direction, more will be required to keep on fighting in this scrappy smartphone arms race.