WhatsYourTech.ca was a media partner at the recently concluded Apple Expo 2010 which is the biggest yearly show for Apple resellers, distributors and Mac users in Toronto. Aside from a number of workshops and seminars focusing on Macs in business and industry, there were a number of interesting product and solution exhibits.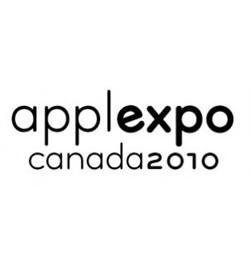 With the arrival of the iPad and the anticipation building for the iPhone 4, this year's show and its exhibitors brought a lot of excitement. Apple is no longer a niche player in the business, it is now a market leader that has seen unparalleled success even in a down economy. Apple, whose market value of $222.1 billion surpassed even that of Microsoft last May.
This year's show, which took place at the Metro Convention Centre, Toronto, attracted hundreds of visitors throughout the afternoon. The show itself wasn't any larger in scale than  the one in the Distillery District last year but the new venue seemed more appropriate. Sadly, Apple itself wasn't represented either as an advertiser or as an exhibitor.
Some of the more outstanding exhibits included  accessory maker Moshi who featured some stylish cases, screen protectors, USB hubs and cleaning products for Macbooks, iPads and iPhones. Their approach to low-profile protection (almost invisible) for keyboards, wristpads and screens is unique because it doesn't get in the way of Apple's design for these products. We can't wait see these in stores come September.
Crumpler, purveryor of stylish camera and notebook bags, also had a good presence in the Apple Expo and was showcasing some of their upcoming iPad cases. These aren't cheap but they're well made solutions. We also saw some compelling multimedia solutions from ElGato which makes some of the best TV tuners for Macs and PCs. Their tiny EyeTV hybrid USB tuners that receives basic cable and digital TV over the air.
MacSpeech which makes voice control and dictation software for the Mac showed their MacSpeech scribe which takes any clear digital voice recording and transcribes it into text as accurately as possible. This is a great and time-saving solution for reporters, students and anyone who has to transcribe tons of recordings into editable text.
So, overall, Apple Expo 2010 gave visitors a good preview of available solutions for Canadian users. Its a necessary show that we hope will continue and get bigger while attracting more exhibitors and attendees in this emerging technology sector.