Toronto should be the perfect city for it – after all, we have the most Facebook members, right?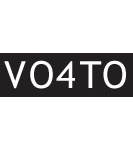 But can social media cure political apathy?
A newly-launched website is designed to do just that, and it's called VO4TO.
Say it fast and often enough, it sounds like a road to Rome.
But 'Voice for Toronto' is no joke – it's a serious attempt to engage the city's voters in the upcoming municipal election. Even more, it's a work in progress as the development team seeks a new way to engage people around important civic and social issues.
VO4TO, meaning Voice for Toronto, is a new website and online connectivity portal where Torontonians can communicate with each other in real-time while linking to multiple social media platforms, including Twitter, Facebook & YouTube.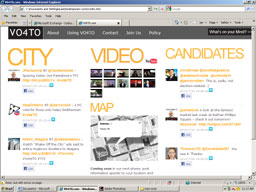 Getting Torontonians active and engaged in the election is no mean feat – voter apathy is a contagion in many jurisdictions, perhaps no more so than Toronto. In the last mayoralty election, of some 1.42 million eligible voters, only 584,000 people cast ballots for mayor — barely 41 per cent — according to unofficial city results.
Individual city ridings show the turnout was uneven at best, with the lowest turnout cited in Etobicoke North – just 33 per cent – with a high (!?!) of 52 per cent in Don Valley West.
So, are social networks the cure for voter apathy? Can a cool new website can overcome voter fatigue, distrust of politicians and skepticism about government in general – not to mention our hectic work schedules and demanding lifestyles?
The folks behind VO4TO hope so.
The site concept and development comes from digital media companies YRAL and DigitalDip; the developers unveiled their site this week during a presentation held at the Centre for Social Innovation in downtown Toronto.
The team believes it can help create more awareness about core election issues and in turn influence a higher voter turnout on election-day. They know social media platforms like Facebook and Twitter are basically "databases of information" that can be utilized in a politically progressive and responsible manner.
"With the election coming, these are exciting times – time for a change," said Faisal Anwar, founder of Digital Dip. "We need a new social narrative, a new way to look at news and a new way to enable community participation in shaping our cities," while showing the new site's features and functions, designed to build what he calls "context specific engagement."
Hash tags are used to identify relevant conversation on other social media platforms, and to bring the content into the VO4TO space. Cloud or word tags may be added soon to help sort through the content the site is already collecting.
"We want to help focus the conversation, and get people to communicate with each other about topics of interest to them," added Murtaza Abbas, YRAL's founder. "We see popular social media platforms like Facebook and Twitter as the core building blocks of open online communication. We use them to stretch the site experience, and extend its capabilities."
As such, the site developers are calling for a lot of user feedback and suggestions for the site. "It's the beginning, not the end of the process," they say.
Faisal and Anwar identify what they identify as a major gap between people's real concerns and opinions, and those expressed through the candidate's election platform and public manifesto.
So, the site not only aggregates feeds from the mayoral candidates, it lets users share information about their own neighbourhoods, and the community issues they face there.
Google maps are used to highlight riding issues, and to locate places of specific concern or electoral activity.
The evolving features on the site let users geo-identify their riding by postal code, and then to post information relevant to their location and interest. User-generated content like tweets, pictures, videos and other digital media can be posted and shared, enabling a kind of online storytelling that has specific content and a contextual focus.
Nevertheless, Faisal acknowledges that the new site and new approach has an "inherent risk", what with new hooks and APIs being used, the site actually triggered a few 'bot warnings' and script alerts from spyware and anti-viral programs on its first day.
He explains that no log-in data is kept or stored (the VO4TO site is accessed using an existing Facebook or Twitter log-in, as it uses those platforms to help distribute its content), noting "That's one reason why you have to log in each and very time you use the site."  Content related data may be stored, so that geo-tagged content or Tweets can be re-used appropriately.
A graduate of the Canadian Film Centre's digital media lab, and creator of other city-focused interactive projects like 360Extended and Intoit, Faisal hopes the city will use VO4TO as an effective tool in shaping public opinion and influencing political response.
YRAL (pronounced "viral") calls itself a social media enablement company that focuses on building applications for multi-platform communication and connectivity.
DigitalDip, also a Toronto based company, produces interactive and cross platform projects that bridge art, design, urban cultures and technology.
submitted by Lee Rickwood
# # #
So, what's your tech? Who did you vote for last time?  Sorry, can't ask that –
Did you vote last time? Will you vote next time?  Why or why not?
More coverage of Canadian Innovation