Text and photos by Gadjo Cardenas Sevilla
More coverage:
Mobilicity launches handsets and plans for Toronto
Mobilicity is Canada's newest wireless carrier
On July 9th, 2010, it was reported that Mobilicity,  would be preparing legal action against Rogers Wireless for an alleged breach of competition laws. Mobilicity, which launched earlier this year, charged that Rogers Wireless intends Chatr to be positioned as a fighter brand in order to kill off the new wireless competitors before repricing closer to Rogers' core offerings.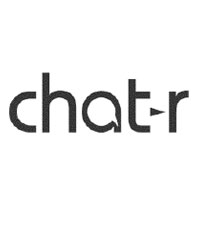 Mobilicity's chairman, John Bitove, explained that Rogers new discount wireless brand 'Chatr' should not be allowed to launch because of the "Abuse of Dominant Position" in the Competition Act where it states the "use of fighting brands selectively on a temporary basis to discipline or eliminate a competitor" is prohibited. Mobilicity is accusing  Rogers of violating a section of the Competition Act that prohibits the introduction of temporary offerings designed to reduce or lessen competition.
They are implying that once Chatr gains a foothold in the budget-prepaid mobile market, it will increase pricing to closely resemble what is already the norm from Rogers and Fido sister brands.
Wind Mobile has  also openly challenged Rogers' entry into the budget mobile game since Chatr was announced. Part awareness campaign and part PR stunt, Wind sent out  invitations yesterday for Torontonians to, "celebrate the arrival of even more competition in the wireless market with Rogers' experiment, the launch of chatr on their 2G network."
"WIND will be selling fair priced, one dollar hot dogs (a reference to their popular TV commercial featuring a hot dog cart) at Yonge and Dundas square, near the Rogers' store location. And, in the spirit of healthy competition, WIND continues to offer a special $150 porting credit to Canadians who opt to make the switch to WIND Mobile," noted the release.
We dropped by briefly and saw the scene below, basically they were selling $1 hotdogs while offering current Rogers, Fido or Chatr users $150 discount  deal to switchover to Wind Mobile.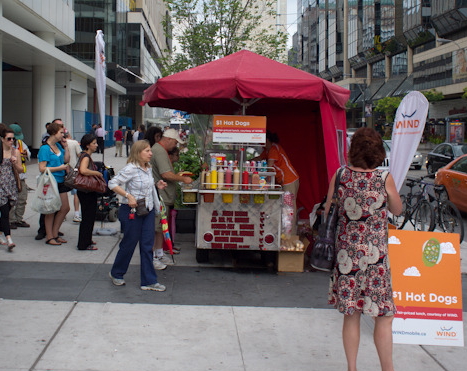 Launched Wednesday, Chatr  provides users unlimited talk for $35 and unlimited talk and text for $45 within Toronto, Vancouver, Calgary, Edmonton, Ottawa and eventually Montreal.
"This is directly positioned at customers looking for the cost certainty that you get with an unlimited plan, but with Chatr you get it with a network you can trust so you get fewer dropped calls than the other new entrants," said Garrick Tiplady, senior vice president, Chatr.
Wind Mobile, together with Mobilicity and Public Mobile are this year's new entrants in the wireless game and have been trying to compete with the big three (Rogers, Telus and Bell) by offering more affordable handsets, prepaid  voice and data plans despite having limited coverage in the country. Rogers Wireless also owns Fido which means that Chatr will be its third wireless cellular company in the country.