By Gadjo Cardenas Sevilla
Google's Android OS is gaining an incredible amount of momentum and as a result 200,000 phones are being sold every day. Google CEO Eric Schmidt recently noted that this was double the 100,000 units sold per day just two months ago. "Android is not just phenomenal but incredibly phenomenal in its growth rate."

Google's announcement follows the revelation  from Nielsen last week that showed, for the first time, that people in the U.S. bought more Android phones than iPhones.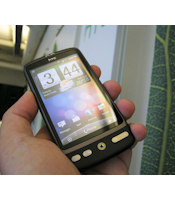 Credit this to the wide variety of Android powered devices from different makers. Users today can get a touch-screen phones, slide-out keyboards, hybrid-phones as well as the large-screen super smartphones like the Motorola Droid X and the Samsung Galaxy S Vibrant. There are also similarly capable, although cheaper Android models that feature the latest OS versions like the Motorola Charm sold on Telus and the Motorola FlipOut that's just released on Rogers.
Next year, Android is expected to expand even further once some official tablet devices bearing Google's OS (by then version 2.3, codenamed Gingerbread) begin to ship. You can find some knock-off Android tablets today and while these are cheap, they are crippled by using the earliest versions of the Android OS and cannot take full advantage of the latest features and applications.
Apple's iPhone is still a popular smartphone today even if it is really only one model, made by one manufacturer and in the US sold under one exclusive carrier AT&T. You can get a variety of Android smartphones on almost any carrier now and the specs are just as impressive as Apple's singular smartphone. Apple's ecosystem of retail and online stores, great developer support and massive selection of applications still secures its position. We have yet to learn about long lines of fervent fanboys forming overnight for an Android phone release.
By 2012, Android OS is predicted to be used in 75 million smartphones, up from 5 million in 2009, says market intelligence analysis firm iSuppli. IOS will be in 62 million phones in 2012, up from 25 million in 2009.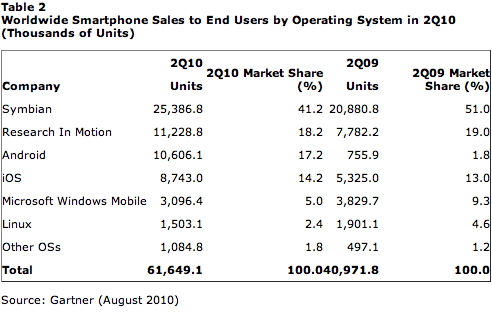 That means in two years, Android will possibly have a 19.4 percent market share worldwide among smartphone operating systems, up from 2.7 percent in 2009. That's tremendous growth in a highly profitable yet competitive market. We find the quick rate of adoption a bit surprising as Android is a geekier mobile OS, one that offers a higher level of tweaking and modification than the iPhone's OS.
Apple's iOS for the iPhone will see its share go up to 15.9 percent in 2012 from 13.8 percent in 2009, explained iSuppli.
We've seen an explosion of Android handsets in Canada in just the past few months and many of them are compelling options and rival the iPhone and BlackBerry in many areas of functionality, they are also generally cheaper and the large selection of models (from Samsung, LG, HTC, Motorola) and carriers means that users can obtain them quite easily without having to deal with long lines and problems of scarcity.
The downside is the lack of uniformity, difficulty of supporting multiple devices from multiple manufacturers and version control issues which could make adopters change their mind about this emerging mobile OS platform.
WhatsYourTech.ca's Android coverage