Yahoo searchers in Canada will begin to see 'Powered by Bing' at the bottom their results page, as the partnership between Microsoft and the California search engine company comes to fruition.
Under the arrangement announced last year, Microsoft will do the heavy lifting, providing back-end functions like ranking search listings for Web, video and image results generated from search queries. Yahoo remains responsible for how the content looks on the page.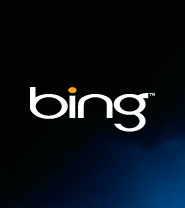 Yahoo Senior Vice President Shashi Seth gave an excited official proclamation on the company blog:
Later this week, we will begin transitioning the back-end technology for Yahoo! Search in the U.S. and Canada (English) over to the Microsoft platform, and will post an update when the organic search transition is complete for both Web and mobile searches. 
Keep an eye out for the 'Powered by Bing' indicator at the bottom of our search results page, which will indicate that you are viewing listings from Microsoft. 
The post goes on to promote "the same enhanced Yahoo! experience that surrounds the listings themselves – such as rich results, Search Assist suggestions, site filters, related topic suggestions, and more to come."
Well, I guess we will wait and see what more there is, but for now, I suspect many Web searches will remain with the big guy, Google, unless there is something very new and very exciting in the works at Bing.
The partnership may be a step in the right direction, if only for the reason that bigger and stronger competitors will be in the search market place. As a corporate strategy, only time will tell if it will be successful for the bottom line.
Once the transition is complete, Bing says it will power 5.2 billion monthly searches – that's almost a one third share of the U.S. search market! Bing reports 290 million monthly searches and an 8.6 per cent share of Canadian searches.
International search engine ranking site Market Share sees the global search scene a little differently, based in a recent search engine activity report:
Search Engine                     Global Ranking
Google                                   84.7%
Yahoo                                    5.99
Bing                                         3.34
Baidu                                       3.34
Ask – Global                         0.75%
So, with tests apparently going well, the decision was made to make the final switch and to complete search engine switchover by this October.
Live site testing has been going on for a few months in the U.S., with parts of search results on Yahoo served up by Bing (the Yahoo user interface did not change during the tests). Details took a while to be worked out, and the companies say technical hurdles were definitely challenging.
A bunch of new APIs were created for the Microsoft back-end that allows Yahoo to process a search query and deliver results that meets criteria for relevance, click-through rates, clicks on ads, abandonment rates.
Even though they are working together, problem reporting goes through individual processes – for Yahoo pages, webmasters will need to use Yahoo's Site Explorer, and Microsoft's Bing Webmaster Central for Bing pages.
The state of development for the new search environment is somewhat in flux, as popular tools like the BOSS (build your own search service) will be changed or revised, and the SearchMonkey developer kit will be discontinued.
There are new Bing development tools being introduced, designed to help webmasters and site developers optimize the crawling and indexing of their site, submit sitemaps and get Bing's organic search result statistics. 
Bing says it will do a better job of searching constantly changing and dynamic sites, like those with airfare or car rental information, thanks to Farecast, a website acquired by Microsoft and incorporated into Bing that tracks airline fares and predicts rising or falling prices.
As far as the quality and quantity of the new search engine goes, ideally of course, search results ranking orders for Yahoo! and Bing should be very very similar. Search engine algorithms are always a little bit different among the top search sites, so absolutely identical results would be unlikely. 
No search site really provides precise details on what exactly goes into their ranking algorithms, but in the easiest of ego-massaging tests, I tested these search engines by searching for my own byline on WhatsYourTech.ca, with the following wide-ranging results:
Google search     223,000 results   10th position (Found Meet the Team, links to exact page)
Yahoo.ca                 60,100 results    13th position (Found byline on specific story, links to home page)
Bing.com                 60,700 results   13th position (Found byline on specific story, links to home page)
AOL.ca                       8,700 results      7th position (Found Meet the Team, links to exact page)
# # #
So, what's your tech? 
Do you always use the same search engine (and is it always Google)? Vote for your search engine on WhatsYourTech's search engine poll in the right-hand sidebar.
Do you think Bing can unseat the champ?