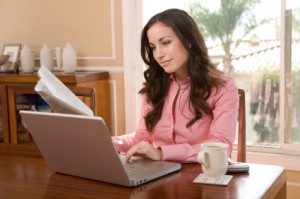 Running a business from home can not only provide flexibility and confidence, but it can also prove to be very rewarding and fulfilling. Of course, there are obvious challenges to streamlining resources enough to keep operating costs down, and since the phone is so crucial to communicating, we focus on some of the best options out there.
Canada's wireless carriers are largely focused on the needs of consumers and their everyday needs, but not necessarily on those who need plenty of airtime during the day to run their home-based businesses.
We searched to find the best plan under those auspices and we can honestly say the pickings are slim. But data plans on smartphones do offer some options that could work to your benefit.
The best plan we found from an incumbent carrier with a nationwide reach was Fido's CityFido plan, which offers 2,000 anytime minutes for $40/month. The deal also includes unlimited texting (both incoming and outgoing) throughout Canada and other countries. Unfortunately, you would pay extra for perks like voice mail and caller ID, but it's not too bad if your business has you on the road a fair bit.
For those who have access to WIND Mobile, their $45 plan offers unlimited airtime from within a "WIND Zone", meaning that you have nothing to worry about if you'd be doing most of your talking within those boundaries. The plan includes unlimited texting, caller ID and voice mail. Plus, WIND-to-WIND calls are free all over Canada.
Like the other new entrants, Mobilicity and Public Mobile, WIND offers unlimited calling to a variety of different countries, which may be appealing if you do a lot of business with clients in those regions. Mobilicity offers a $65 monthly plan that provides unlimited airtime, long distance throughout Canada and the U.S., voice mail, caller ID, unlimited texting globally and unlimited data (albeit only within Mobilicity's coverage area). Considering there are no system access fees or contracts to sign up for, this isn't a bad plan at all by Canadian standards.
Public Mobile has a base $40/month plan that provides unlimited airtime and texting. Pay an extra $10/month and you get long distance throughout Canada and the U.S. thrown in. Pay an extra $15/month and you get overseas long distance to 45 countries — except all but a handful are for landlines only. Still, not a bad deal if you tend to do business overseas too.
The overlying issue is that the new carriers have limited coverage that is really only centred on major cities. If you live outside those zones, you're probably better off leveraging the Internet to reach out and touch people.
Skype is an obvious choice for saving money because Skype-to-Skype calls are always free. But you can also use SkypeOut to make calls to landlines and mobile phones anywhere in the world. Rates are quite low at an average of 2.3 cents per minute, and you can opt for a monthly subscription for as low as $6.99/month for unlimited calls. Or you can just put some money into your Skype account and make calls on a prepaid basis. The only problem is that the service doesn't include mobile phones in all the supported countries (just landlines).
The other problem is that SkypeIn, the service that gives you a phone number others can call you at, isn't yet available in Canada. Well, actually, you can use it in Canada, but it's only really useful to you if you want to get a local number in the U.S. or another supported country. For example, if you have important clients in Florida, you can choose to get a local Miami or Tampa Bay number to make it easier for them to reach you. They offer monthly plans for this that are very affordable.
And, of course, since Skype now works on the iPhone and Android, you can piggyback on your data plan and make Skype calls to anyone, anywhere, and not pay a cent for long distance if it's Skype-to-Skype. If you're calling a landline or mobile somewhere, make sure your account has money in it, or you have a monthly plan.
Another gizmo worth considering is the MagicJack, a USB dongle with software that can be used on PC or Mac alone, or you can connect an actual phone to it and use it that way. Like Skype, MagicJack uses the Internet to route calls, and it's very cheap. For an upfront fee of $40, you get the dongle and a year of service. That gets you free calls to all landlines in Canada and the U.S. Add another $10 and you can get a Canadian number for people to call you.
Every year after the initial cost is just $20 for free calling to Canada and the U.S. Plus, you get caller ID and voice mail, too. Not a bad deal, and the voice quality has definitely improved since the device was first introduced a few years ago.
Our very own Lee Rickwood reviewed a service from Fibernetics, a Cambridge, ON-based firm that is looking to offer free long distance throughout Canada with your own number, so people can call you too.
The point is, there are plenty of options out there that can help keep costs down, while allowing you to talk to more than just clients in your local area. Shop around and see what works best for you.