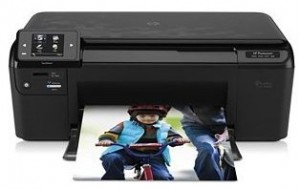 As far as as all-in-one wireless printers go, HP's D100a or HP Photosmart e-All-in-One offers midrange features on a budget price point  including WiFi function of printing at 23 ppm color and up to 29ppm black print speed a decentprint resolution up to 4800 x 1200 dpi . This printer is also the first all-in-one printer with support for wireless printing and e-mail that allows users to print a simple e-mail documents to the email address of your printer.
The HP Photosmart e-All-in-One is the latest in a long line of multifunctional inkjet printers that integrate a scanner as well. Ideal for home and office use. As our environments grow to support more than one computer it makes sense that printers can be networked and even more sense that they are wirelessly accessible.  For connectivity, you get the option of the desirable Wi-Fi 802.11n, and the reliable USB 2.0 interface.
THe HP Photosmart e-All in-One ($100) is easy to set up out of the box. Just unwrap the printer, pop-in the black and white and print cartridges and go through the installation process. Setting up wireless access is a bit of a chore but once you do get it working there's nothing quite like it. Printing wirelessly does have its benefits and being able to do this without the need of a server or a connected PC is great and convenient.
Printing photos on the HP Photosmart e-All-in-One is dead easy and the results are superb. We printed a few dozen 8×10 from a recent vacation and the Photosmart printed them out quickly an the quality was as good as any printing service.
We did realize that printing photos does use up a lot of the ink pretty quickly. So, while  the Photosmart can churn out a pretty high quality photo in a pinch, it is much better suited for documents  and projects like cards or CD and DVD covers, if you want the ink to last. iPhone, Android and Symbian smartphone users can also make use of HP's Mobile Printing apps that can interface wirelessly with the D100a and other similar HP printers.
Scanning on the HP Photosmart D100a is also quick and intuitive HP's software can single out what it is you are trying to copy and quickly give you the necessary options for getting a clean scan. Once the documents are scanned and a PDF is generated, you have  a number of ways to store and share them all from the HP Message Centre.
We've had ample time to evaluate the HP Photosmart D100a all-in-one wireless printer and it will be a good addition to any home or home office needing a versatile print and scanning solution. It also has a multi-card reader for people who want to plug and print directly from all varieties of memory cards. If your printing needs aren't voluminous and you want the convenience of wireless printing, this is a model worth looking at.
Rating: 4.5 out of 5