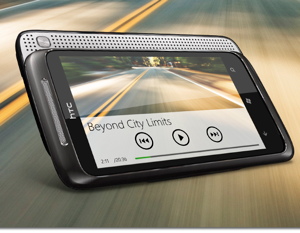 By Gadjo Cardenas Sevilla
The HTC Surround, is one of the new Windows Mobile smartphones ushering in Microsoft's new OS and is built to strict hardware specifications in order maximize all the features of this exciting new operating system but offers something its competing handsets don't have, its very own boombox.
Herald of a New OS
There's an indescribable excitement that comes when unboxing a new device, specially one like the HTC Surround which heralds an entirely new smartphone operating system. We've been counting the days for Windows Phone to come to Canada as we have been impressed by our early previews of the new OS and its slick, vertical scrolling Live Tiles interface as well as the fresh approach it has taken to smartphone OS.
The HTC Surround runs Windows Phone very smoothly, no lag is perceptible and smooth-scrolling and fast app launching has been the norm so far. Call quality was above average and we were surprised to find that the device held a signal in some of our familiar dead spots. Battery life seemed to be average for a smartphone (you need to charge it daily) but we need more time to determine how it performs during day-to-day usage.
Judging from the box (below), the HTC Surround is packaged just like any other HTC smartphone. Displayed next to the box of a Android-powered HTC Desire Z (T-Mobile G2) however, reveals that this is a different beast altogether.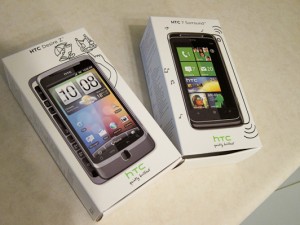 Out of the box, the HTC Surround possesses unlikely lightness for a device with a 3.8-inch,  480×800 screen, specially if you consider that it has slide out stereo speakers which require their very own built-in kickstand to tilt up for an optimum viewing and listening position.
Build quality is unflinchingly solid all around. HTC has spared no expense in designing the HTC Surround. It looks more austere than ostentatious but high quality materials abound. The back case is rubberized but with a satin finish and with very good grip while the section surrounding the screen is made of  brushed metal, polycarbonate and chrome. The overall look is stylish and subtle, yet understated. We like how the home, back and search buttons are touch sensitive yet really receptive.
On the downside, it is a challenge to open up the rear case in order to insert or remove a SIM card. You do need a substantial amount of force to pry  it open.
The speakers deliver as promised and offer sound that's as clear and loud as what you could expect from a premium notebook, that HTC has managed to cram Dolby Sound enabled surround speakers into a handheld device is staggering and shows how far we've gone with speaker technology.
Audiophile's Smartphone
We like listening to podcasts and music during the day but don't relish the thought of using headphones all the time, so a solution like this is perfect for this use scenario.
We also tried gaming, which Windows Phone does surprisingly well, and thoroughly enjoyed playing Star Wars: Battle for Hoth with the iconic John Williams score booming in the background.
As for using the speakerphone feature of the Windows Phone, the dual, noise-cancelling microphones  keep call quality good and if you want to use the speakerphone, the big speakers really help.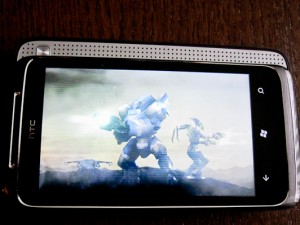 With 16GB storage, you can carry a lot of music on the HTC Surround. Thankfully, the speakers are good enough so you can enjoy this music anywhere you go. Its a novel concept that may not be for everyone and some users may not even use, but for  watching movies and enjoying music on the go, it is really convenient.
Quick Notes on Windows Phone OS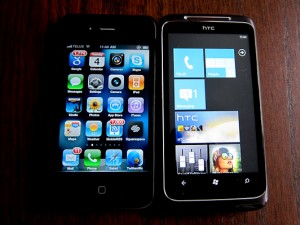 Windows Phone's OS approach is refreshing. Unlike iOS and Android, which require you to flip through screens full of  buttons that lead to apps,  Microsoft only gives you two main screens to work with.
The first screen where the main Live Tiles interface can be found can be managed by your thumb.
Click a tile and "boom" you're in the application. Nothing seems to be loading or installing, it just appears as the information floats in. When you're done simply tap the Windows logo and your're back to the Live Tiles.
The second screen is where the settings, preferences and apps can be found and this too can be managed with one thumb.
The lack of multitasking and cut-and-paste ( the latter a heavily requested feature that is coming soon, according to Microsoft) does pose some limitation to functionality. We find, however, that of all the smartphone operating systems today, Windows Phone is the easiest to pick up and learn.
The Windows Marketplace offers a surprising number of applications, many are available for free to try before you buy, which is great. The problem is the pricing seems to be all over the place for these apps. In a world that's been spoiled by .99 cent apps mobile apps, its just weird to see a range of $5.99 – $8.00 applications on a spanking new OS.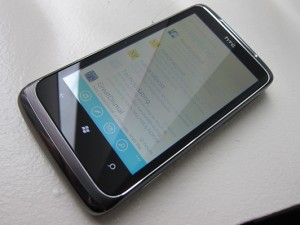 Conclusion
Specs on the HTC Surround include a 1GHz processor, internal storage of 16GB, 448MB of RAM and a 5 Megapixel camera with an LED flash as well as the ability to record HD video in 720p resolution. You also get 250 minute talktime on GSM networks and the ability to use the phone as a Zune player.
HTC also includes its own HTC Hub suite of software widgets since there isn't any way for it to implement its popular HTC Sense skin that's been available in Windows 6.5 as well as Android devices.
The HTC Surround will be available on November 8 on Telus for  $99 on a three-year plan and around $500 no contract price which is today's ballpark for a premium Smartphone handset.
Rating: 4.5 out of 5