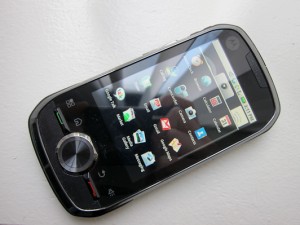 Text and photos by Gadjo Cardenas Sevilla
Push-To-Talk handsets cater to a very specific type of user. Enabling quick communication between workers on the field or businesses that need the flexibility of a phone and the benefits of a closed-frequency network, Motorola's i1 handheld is a suitably rugged solution that sports Android functionality to boot.
With the i1 handset, Motorola seems to be outfitting even its basic celfones with Android capability. Of course, with a 3.1′ inch screen and the very basic (and very old) Android 1.5 OS variant doesn't really classify it as a smartphone specially if you consider that 70% of Android handsets sport larger (3.7′ to 4-inch screens and the newer Android 2.1 or 2.2 OS).
The Motorola i1 is more rugged that your average celfone, it is clad in tough plastic and the screen is the same industrial grade scratch-proof Gorilla Glass that we've seen on premium smartphones. It is  also Mil Spec certified to withstand dust, shock, vibration and blowing rain. The top and bottom of the phone is outfitted with hard, shock absorbent rubber while the back is made of a grippy hard plastic. Still, this isn't a phone you'd want to drop, the majority (the screen) is covered in glass and asphalt or concrete will shatter it with substantial impact.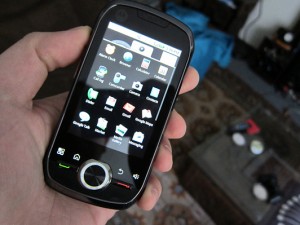 Noticeably missing is Motorola's MotoBlur overlay which has been present in almost all its Android handsets of late, but this isn't a typical consumer phone so that's likely why Moto decided to hold back on its Blur initiative this time around. What the i1 has, however, is a large button on the left side for Push-To-Talk functionality on the iDEN network.
Telus, which sells the Motorola i1  for $150 on a three-year contract or $399 for no contract,  operates three  varied cell phone systems – the iDEN network, the classic CDMA format network, and its newest HSP+ format network that it shares with Bell. Demand for the iDEN network is consistent and the Telus is committed to supporting it
"We have seen continued success with the introduction of the BlackBerry Curve 8350i and based on the market anticipation and interest, we believe the rugged Motorola i1 will see similar successes," explains Puja Subrun, Telus' director of SMB & mobility solutions marketing.
The i1 also offers a 5 Megapixel camera that's capable of video recording, users also get the benefit of downloading and using older Android apps in the market. There's also a built-in GPS and  an expansion port for MicroSD card.
The biggest question we have for any new handset that sports the oldest, most basic version of Android is why? What would it have cost to bump up the OS to a more recent Android 2.1 or even 2.2. Android functionality on a PTT phone is definitely a move up from the usual, extremely basic PTT phone but shoehorning it into the oldest version of the OS seems shortsighted, specially since very few Android 1.5 devices ever get software upgrades.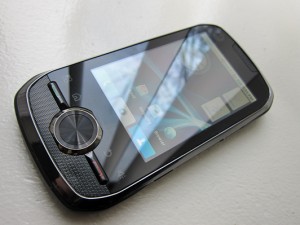 Perhaps, PTT users won't be as particular and will welcome the no-frills yet functional feature set of the Motorola i1 and that's fine. We just think that most users will want to get the most bang for their buck and Android 1.5 is the bare minimum. Still, the i1 built tough, runs Android and is a reliable PTT device which will suit its niche market.
Rating: 3 out of 5