Heading into the second decade as the leading competition to celebrate the accomplishments of Canadian digital media companies and content creators, the Canadian New Media Awards have been reborn as the Canadian Digital Media Awards, or 'The Digis'.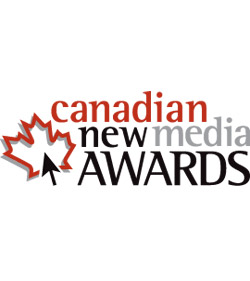 The Canadian New Media Awards celebrated their 10th year on December 1st, with awards presentations at the Design Exchange in Toronto. The event was staged as part of the nextMEDIA Toronto Conference.  Following the event, show producer Achilles Media announced the rebranding of its national awards program, and introduced 'The Digis'.
It's a benchmark transition, as the awards themselves have achieved their own degree of secial recognition.
The number of nominees competing increased more than five times.
The number of new categories went up by six.
So the growing size and scale of the CNMAs is a clear sign that the media and technology industry is not only blooming in Canada, but well able to compete on the international stage.
Canadians were honoured for producing one of the world's most widely watched media events – the 2010 Winter Olympics in Vancouver – and for creating exciting new media properties in the kitchen – the webisodic series Bitchin' Kitchen is now on TV – as the prestigious awards were handed out last week at the conclusion of a two-day interactive and new media industry conference, nextMEDIA Toronto.
The CNMA introduced six new categories to the 2010 awards: Digital Media Division of the Year; Digital Media Technology of the Year; Best Online Program, Series or Film; Community Campaign of the Year; Interactive Designer of the Year; and Digital Media Woman of the Year (which went to Bitchen' Kitchen creator Nadia G).
And, in a nod to one of the CNMA's original creators and founders, Adam Froman, now President & CEO, Delvinia, was presented with the Outstanding Achievement award for his many years of engagement and contribution to the coutnry's digital media industry.
Below is the full list of winners. We previously published the full list of nominees with links to their work as part of our coverage of the CNMA awards.
2010 CNMA Winners, Categories and Company Location:
Company of the Year sponsored by Deloitte: This award goes to the most ground-breaking Canadian new media company. Start-up or established, it's all the same category – the winning company will have taken digital media to the next level. Must make a minimum of $2 million in revenue.
Syncapse Corp, Toronto ON
Promising New Company of the Year sponsored by RBC Royal Bank: They have a vision, a two-year game-plan, a team of enthusiastic stars and a regulation-sized pool table. Now all they have to do is rise above the fray and make their mark. Award for the "up and coming" company of 2010.
Digital Media Technology of the Year: Awarded to the piece of technology that will most radically change the media landscape. Technology can be software or hardware based. The technology must have been created by Canadian developers working in Canada at the time of its development and launch.
HootSuite – HootSuite Media Inc., Vancouver BC
Best in Canadian Culture – Interactive: Awarded to an interactive property which helps diverse canadian communities share their stories and cultural collections-from national and provincial to municipal and local- with new and growing international audiences. Must add visibility to Canada's cultural experiences through an online exploration of our heritage and culture.
Redress Remix – Stitch Media, Toronto ON & Halifax NS
Best Cross-Platform Project: Recognizes excellence in interactive enhancement of a television property on digital platforms. Eligible projects could include games, websites and/or mobile applications associated with a television program.
The Vancouver 2010 Olympic Winter Games from Canada's Olympic Broadcast Media Consortium
Best Online Portal: An online video portal that distributes video content via the Internet or mobile technology. Videos can be any length or genre, and may include music videos, movies, news clips, videos, and full-length TV shows. Portals will be judged according to value of content for the audience, brand distinction, functionality and enhanced features such as social networking tools.
Urbania.ca – TOXA, Montreal QC
Best Kids Interactive: Honouring excellence in the development of interactive platforms for both entertaining and informing children aged 13 and under. Entries include online video, websites, cross-platform media, and products with a digital environment.
The M.I. High Game: The Grand Mistress Mystery – Xenophile Media, Toronto ON
Best Online Program, Series or Film: Recognizing excellence in the development of a production that is viewed exclusively by Internet audiences. Entries may include a factual or fictional production of any genre with no transmission on television or theatrical release prior to launch.
GDP – Measuring the human side of the Canadian economic crisis – National Film Board of Canada, Toronto ON
Best Mobile Application sponsored by Adenyo: Open to any application that delivers services to a mobile phone. This application demonstrates excellent functionality, innovation, audience reach and frequency, as well as excellence in the use of the capabilities of the mobile medium.
2010 Guide – Official Vancouver 2010 Winter Olympic Mobile Spectator Guide – XOMO Digital Inc. Vancouver BC
Best Web-Based Game: Innovative games playable in a web browser created by Canadian developers for any market or audience. Entries may include games with either single or multiplayer experiences.
One Ocean Interactive – Tactica Interactive, Merit Motion Pictures, and Complex Games¸ Winnipeg MB
Best Use of Social Media: Demonstrates excellent use of social media for business, arts, or community organizations. Must exhibit innovation in creating and connecting communities.
Doritos Viralocity – Proximity Canada/BBDO, Toronto ON
Best Online Advertising: Excellence in the creation, delivery and execution of online advertising campaigns. Including but not limited to video, gaming, mobile, websites, banners, pop-ups, microsites, email, digital out of home, and rich media. Entries will be judged according to level of user engagement, awareness, and use of medium.
Tourism Montreal, Montreal buzz – Sid Lee, Montreal QC
Best Branded Entertainment: Demonstration of content that uniquely positions a brand, product or service within the context of a multiplatform entertainment experience. Must include online video content and one other component (merchandise, mobile, games).
The Weak Shop – DDB Canada/Tribal Vancouver
Community Campaign of the Year: Excellence in the use of the digital medium for communicating with, advocating for and marketing to communities about social causes affecting the world. Methods of outreach can include all forms of digital media, including websites, mobile, and social technologies.
The NFB Test Tube with David Suzuki – National Film Board of Canada
Individual Achievement Categories:
Executive of the Year:
Alon Marcovici, CTV Inc. & Canada's Olympic Broadcast Media Consortium
 Online Artist of the Year:
Down With Webster, Toronto ON
Producer of the Year:
Philippe Lamarre, TOXA, Montreal QC
Digital Media Woman of the Year:
Nadia G (aka Nadia Giosia), Bitchin' Kitchen, Montreal QC
Developer of the Year:
Kris McLaughlin, The Vacuum Design Inc., Nelson BC
Interactive Designer of the Year:
Myron Campbell, Switch United, Vancouver BC
Outstanding Achievement:
Adam Froman, President & CEO, Delvinia
submitted by Lee Rickwood