Well done, Canada!
The finalists  for the 10th Annual Canadian New Media Awards (CNMA) were announced recently. In categories from company of the year to best branded entertainment to best use of social media, Canada's most successful digital talent was recognised in this year's CNMA race for top honours. The winners will be announced at a gala dinner on December 1.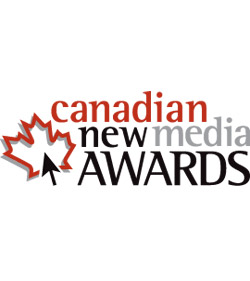 In all, awards will be given in 20 categories. Below you can read the full list of  2010 CNMA finalists and explore their websites and work. I'm sure you'll agree they represent a remarkable, wide-angled portrait of Canadian digital creativity.
As jury/host President for the CNMA digital media woman of the year category, a wonderful addition to the CNMA list, I am thrilled by the extraordinary talent of its four contenders. The work of Guinevere Oris, Jessica Leigh Clark-Bojin, Nadia Giosia and Ramona Pringle cements the fact that digital strategy and delivery do not know gender boundaries. They are role-models and quite likely mentors for so many up and coming young women in the digital field.
I have found that through mentorship and collaborative opportunities, such as that offered by Wired Woman Society's Mentorship program,  people learn from each other and apply the learning. Mentorship is a nurturing process, which provides the opportunity for more experienced individuals, to share their professional knowledge and expertise with others who are less experienced.
And, so, without any further adieu, here is the full list of 2010 CNMA finalists – 80 in all. Take some time to check out their sites and plug yourself in to the pinnacle of Canadian digital achievement.
Good luck to all!
COMPANY OF THE YEAR – SPONSORED BY DELOITTE
PROMISING NEW COMPANY OF THE YEAR – SPONSORED BY RBC ROYAL BANK
DIGITAL MEDIA WOMAN OF THE YEAR
BEST BRANDED ENTERTAINMENT
BEST IN CANADIAN CULTURE – INTERACTIVE
COMMUNITY CAMPAIGN OF THE YEAR
BEST CROSS-PLATFORM PROJECT
DIGITAL MEDIA TECHNOLOGY OF THE YEAR
BEST KIDS INTERACTIVE
 BEST MOBILE APPLICATION
BEST ONLINE ADVERTISING
BEST ONLINE PORTAL
BEST ONLINE PROGRAM, SERIES OR FILM
BEST USE OF SOCIAL MEDIA
BEST WEB-BASED GAME
PRODUCER OF THE YEAR
INTERACTIVE DESIGNER OF THE YEAR
EXECUTIVE OF THE YEAR
DEVELOPER OF THE YEAR
ONLINE ARTIST OF THE YEAR