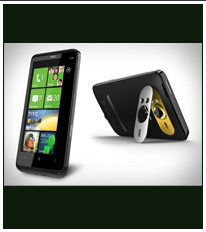 With design and materials akin to some of its high-end Android smartphones, the HTC HD7 ($499 outright or $49.99 for a three-year plan on Bell) melds a grippy rubber rear case with shiny grey plastic and metal accents. Most of the phone's front is taken up be the grand, almost majestic 4.3-inch screen which, while not made of the super-saturated AMOLED panel, is clear and sufficiently bright.
This is a surprisingly thin and light phone for its size. It also packs surround sound capabilities and loud speakers in its slim profile and we like how the front panel is all screen with very thin border (enough for the three touch enabled buttons.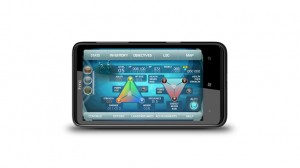 You can't underestimate the benefit of a 4.3-inch screen specially when it comes to reading e-mails, scrolling through documents, viewing photos and indulging in some touch-enabled games.
Designed around a High Definition experience, the HTC HD7 sports a capable 5 megapixel camera as well as the ability to shoot video in 720p HD resolution. This Windows Phone competes directly with dedicated video camera as well as many of the cheaper standalone point-and-shoot cameras in the market.
Windows Phone has a special feature that begins recording images a few second before you press the shutter so that you don't miss fast-moving, easy to miss moments and this complements the HD7 nicely. While this smartphone is tops for capturing video, it is also designed to play them back.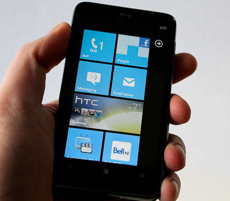 We spent some time with the Windows Phone Marketplace which is the devices' app store and found that there were a compelling number of apps although the 20 top selling apps right now are all games.
The large screen is simply stunning for watching video and the HTC HD7 even comes with a clever fold out stand that allows you to prop the smartphone up on a flat surface for viewing. This is representative of HTC's good design sense.
Ideal for long airplane rides or when you simply want to watch on-demand video provided by Bell's network.
The ability to remotely control and set your home PVR is also built-in for Bell customers. If WIndows Phone or Zune had a way  for users to purchase or rent movies and TV shows directly into the smartphone the same way that Apple's iTunes can then this would be a compelling on-the-go entertainment solution.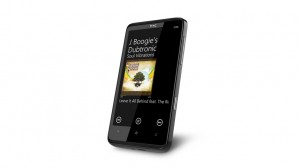 Windows Phone and its glance-and-go interface work well with this size of device and we found that viewing webpages as well as some of HTC's widgets was a pleasant experience overall. Reading from the Kindle eBook app was equally impressive and easy on the eyes.
We always pegged the Samsung Focus as the best of the first batch of Windows Phone 7 devices and while we maintain that the Focus' AMOLED screen is amazing and its design is a modern classic, but the HTC HD7 really impresses in terms of fit, finish and performance and we think it is a better all around Windows Phone 7 device, probably the best out there now,  but you do pay a premium price for that immersive 4.3-inch screen and all the goodies it contains.
Rating: 4 out of 5