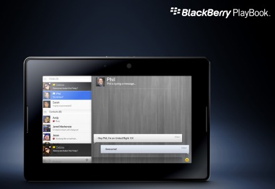 By Gadjo Cardenas Sevilla
The much awaited and hyped  BlackBerry Playbook is now available for pre-order from Future Shop and Best Buy starting at $499. The 7″ inch BlackBerry tablet, which is designed to work in tandem with existing BlackBerry smartphones, will begin shipping in North America on April 19th and is accompanied by a range of cases and accessories.
The most intriguing aspect of the PlayBook is the persistent rumour that it will be able to run certain Google Android applications via a Dalvik Virtual machine as well as apps running on the brand new  and super stable QNX tablet OS that RIM is debuting with the new tablet.
Of all the tablets that were demoed at CES 2011, we were most impressed with BlackBerry's PlayBook which felt "more completed" than the Android Honeycomb tablets that were running looped videos. The PlayBook we saw and played with felt sturdy, wicked-fast in terms of performance and managed multitasking natively. We liked how effortlessly it slid back and forth between running applications and also the brightness and clarity of the screen.
The biggest question surrounding the BlackBerry PlayBook is if will function reasonably well without a companion BlackBerry smartphone. Since RIM is only selling WiFi units on April 19, then a link up with a data-plan enabled BlackBerry seems like a requirement. The question is, can we pair the PlayBook with an iPhone 4 or a Google Nexus S which inherently convert into portable wireless hotspots or is this feature locked-in to BlackBerry devices alone.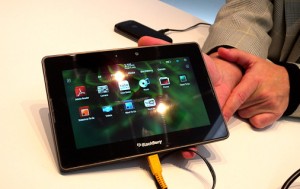 At $499 for a 16GB model, the PlayBook is one of the cheaper tablets around but competes directly with the $519 (Still taxing Canadians, eh Apple? We've been above parity for a while now) iPad 2.
In terms of specs, (dual-core processors, 513MB RAM, storage, dual-cameras) the iPad 2 has the BlackBerry PlayBook matched but offers a larger screen, the app ecosystem and strong developer  and retail store support.
None of this will matter to Blackberry diehards who already run their lives and businesses around the RIM system and see the PlayBook as the perfect extension to their devices.
The BlackBerry PlayBook offers paramount portability and the unique advantage of being tightly integrated with the existing ecosystem.
We are excited to see what the PlayBook can bring to the tablet game, which has started to whip itself into a frenzy this week with the Canadian release of the iPad 2 (sold out everywhere in the US with 4-5 weeks for online orders), the announcement of the Motorola Xoom WiFi as well as tablet announcements every other day now.
More BlackBerry coverage