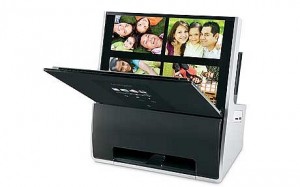 By Gadjo Cardenas Sevilla
Unlike any other multi-functional printer we've seen before, the Lexmark Genesis ($399  from Future Shop) is an upright  block of shiny plastic that looks more like a modern art sculpture than a boring old  office appliance.
Based on the size, specs and feature set – the Lexmark Genesis is perfect for small office, home office environments and would work well as an executive's personal all-around printer, scanner, fax and copier. The Genesis also incorporates a USB port and an SDCard slot for quick printing from these storage devices.
Interestingly, the Lexmark Genesis may seem striking  with its shiny Lucite exterior and upright orientation,  but it is clearly designed around function. It is a space-saving all-in-one that has half the footprint of other models we've seen and tested. It can pass for a standalone laser printer until you realize that it houses a vertically positioned scanner, works as a copier and a fax.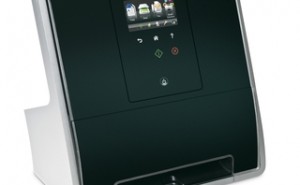 Set-up is painless and dead easy. Lexmark clearly designed this to be a standalone device requiring no PC connection and it is refreshing to just set-it and forget-it with no wires, no archaic installers or drivers. Take the printer out of the box, insert the ink cartridges, power it on and configure it to get on your preferred WiFi network.
Everything runs through the touchscreen which is well laid out with clear icons and logical step-by-step instructions.
We were able to "find" the Lexmark Genesis with our MacBook Air quite quickly and through Apple's Bonjour network service, we had the required drivers downloaded and set-up in no time.
It scans print documents in roughly 3 seconds which is impressive for something that is not a standalone device. Loose pages, photos or receipts are easy enough to position for scanning but getting scans off of bound books or magazines is a bit trickier since the scanner isn't horizontally oriented.
One thing that is easy to miss is how quiet the device is when printing which we appreciated when we had to print out a number of pages in our apartment late at night.
We were also delighted to find out that we could use our iPad and iPod Touch devices to print out photos and webpages using the free LexPrint app. No luck, however on Android devices as there doesn't seem to be an app that can connect to Lexmark printers wirelessly.
With the LexPrint app installed and using Wi-Fi, the iPad 2 found the Genesis within seconds and we were printing within a minute. The best thing about it is the ease of use, finding the Lexmark Genesis is just as easy as clicking a button and waiting for the Genesis to appear as an available printer.
Wireless printing, without needing a USB connection to set-up and enable the device, has long been on the wishlist of the small office, home office segment and not all the manufacturers have figured out the easiest way to enable this. Lexmark's approach is polished and hassle-free.
The Lexmark Genesis may just be the printer for our modern, multi-device, wireless households and home offices. Not only does it work efficiently, it adds a whole new dimension of functionality to these mobile devices.
With smartphones and tablets increasing in use and functionality, the capability for them to print out documents is a highly touted feature that has historically been over-promised and under-delivered, this is beginning to change.
A lot of it has to do with software and Lexmark has made wireless printing from non PC devices straightforward and yes, fun.
Since it is a web-enabled printer, you can get additional widgets for the Genesis from SmartSolutions website which add weather apps and the sort to the experience and find myriad uses for that 4.3″ colour screen.
The Lexmark Genesis also has the advantage of having built-in memory card slots for quick transfer and printing from a variety of sources (namely Secure Digital, Secure Digital High Capacity, miniSD, microSD, xD-Picture Card, MultiMediaCard, Memory Stick, Memory Stick PRO and Memory Stick Duo formats).
With unique styling and simple yet powerful features and economical wireless printing solutions.
The Lexmark Genesis is a new class of general-use office and home printer that is unobtrusive, wirelessly competent and happy to interact with any WiFi enabled computer plus  iPhones and iPads.