By Lee Rickwood
Ottawa high school students are developing smartphone apps that can be downloaded from iTunes, taking the first step in what's intended to be a long and rewarding career in high tech.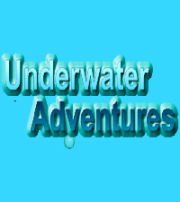 As tenth-graders, they were having a lot of fun with app development. Now it's a lot more serious.
The Ottawa High School Technology Program gives students from ten Ottawa-area secondary schools encouragement and hands-on inspiration to pursue ICT-sector (Information and Communication Technology) careers, fostering industry collaboration and employment opportunities at the same time.
So, the three Grade 12 students pictured below are off to Carleton and Algonquin to study computer science and computer engineering. Two of them began in the Ottawa High School Technology Program back in Grade 10; they continued through to this year and now they're accepted into high-tech degree programs.
And the third graders are in the tech program, too!
As part of a unique role-playing app development exercise that's part of the program, the Grade 3's act as 'Customers', spec'ing out the kind of game they'd like to play, and doing some  'beta testing' and 'QA' along the way.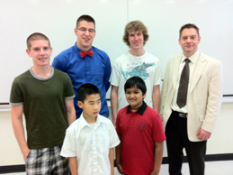 The Grade Ten's, of course, are the 'Developers' who build proto-types and release version smartphone apps and online games.
In the photo, taken by Nathaan Rudyk, program 'application developers' Graham Bohn, Grade 12, Earl of MarchSecondary School; with bow tie, Nikola Neskovic, Grade 12, Earl of March Secondary School; Peter Smelters, Gr 12, Earl of March Secondary School; amd Marcellus Mindel – Head of Academic Partnerships, Centre for Advanced Studies, IBM Canada Ltd., are in the top row (left to right). The front row shows 'customers' Fred Liu, Grade 3, W. Erskine Johnston Public School; and Tanae Rao, grade 3. W.Erskine Johnston Public School.
Recently, one of the participating schools hosted a Grande Finale demo and presentation event, showing some results from the latest round of development. With the third graders having provided direction, input and interaction with the Grade 10 designers and programmers, much like in a development cycle for real life computer programs, they could show what they'd all created off for friends, family, staff and visitors.
Some games are just for fun, many have educational underpinnings in math, for example, or even geometry. Many games had embedded animation, sound effects, music and other media elements.
Overall, the program is in its third year, and each successive 'graduating class' underscores the value. Cathy Vachon, a Grade 3 teacher at St.Luke Elementary School in Nepean, said in her testimonial to the program, "Initially I wondered just how much impact this experience would have on a student's view of technology and careers in technology. In short, it is unquestionably the most powerful learning experience they have ever experienced and will, I believe, alter the directions and choices these students will make in their academic careers."
An important part of the development and learning process is working with others, and seeing first hand the value and importance of creating role models for participating elementary school students among their secondary school peers, and likewise, the value of having mentors for the secondary school participants among their soon-to-be industry peers.
By pairing Grade 10 to 12 'software developers' with Grade 3 'customers and clients', the Ottawa High School Technology Program is offering up one solution for filling what's expected to be some 106,000 new technology jobs that will open up in the next five years (according to the Information Communications and Technology Council) province-wide.
Industry analysts say more education and training is needed to boost graduate levels and professional skills development activities to help meet the need. Immigration, particularly of educated professionals, will help, as will levelling the playing field for women in the industry.
Even so, the current workforce will need to be even more multidisciplinary, with more direct hands-on experiences, to meet the industry's anticipated growth.
That's one reason Marcellus Mindel, Head of Academic Partnerships at the IBM Canada Software Lab, is really stoked on the program, "[B]ecause it connects elementary students to high school students to industry mentors, all working together to deliver real working education applications created by elementary students for elementary students."
He's from one of several partners and industry sponsors for the program, including IBM Canada Software Lab, Macadamian Software, RIM, The Ottawa Software Cluster, AlgonquinCollege, CarletonUniversity, University of Ottawa, Ottawa Carleton District School Board, Ottawa Catholic School Board, Ontario Centres for Excellence, and Partnering to Achieve Student Success. Adobe Systems also provides software development tools to the students.
Now in its third year, the Ottawa High School Technology Program  is led by the Ottawa Centre for Regional Innovation (OCRI) in cooperation with local secondary and post-secondary schools in Ottawa and Gatineau.
OCRI is the Capital city's economic development agency.
-30-