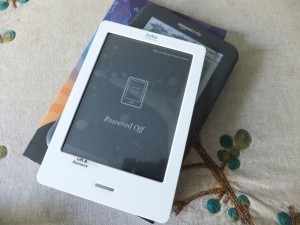 By Gadjo Cardenas Sevilla
Toronto-based Kobo has released the Kobo Touch eReader. A diminutive, fast and well-priced eBook reader that doesn't only meet its competition feature by feature but is the smallest yet most capable eReader device around.
The reason why there aren't any buttons on the Kobo Touch eReader ($139) is because the eInk display is completely touch-enabled. This means you interact with the screen directly so there are no clumsy navigation bars or odd Next and Back buttons to deal with. The new pearl eInk display is one of the best 6″ inch 16-shade grayscale displays in the market today.
For Canadian users, Kobo's huge 1.5 million eBook library is a no brainer since a lot of the titles are available straight away.
There are also magazines and the ability to transfer PDF's. Other outstanding features include the ability to add even more memory via microUSB cards as well as built-in web browser which is a nice-to-have feature.
You can also borrow e-books from your local library which is a sweet (and cost effective) way to catch up on your reading.
Kobo has also spiced things up with the Reading Life application which earns users badges and achievements based on their reading frequency and also allows some social interaction since you can share the information with your friends on Facebook or Twitter.
For users that have an iPad, Android or PlayBook tablet, you can access your eBooks on those devices as well or on any of the major smartphones out there today thank's to Kobo's applications. We were thrilled to find a Game of Thrones 4-book bundle for $18.00 as well as a number of recent bestsellers that we put on our wishlist.
iPad and iPhone users don't have access to the store on those devices since Apple has disabled in-app purchases but Kobo is coming up with an HTML5 solution and workaround.
It is this kind of innovative thinking that is making Kobo so popular with its users. This, great hardware and software and the unique social aspect of Kobo Reading Life (where you can update your friends on what your read, how far you've gone and can earn badges and achievements for reading) that sets it apart from the competition.
We also tried out subscriptions to local newspapers and monthly magazines which worked well. Our daily Toronto Star updates come in at around 8 AM or whenever we sync the device with the servers and most of the major sections (without ads or images) are quickly available. Formatting is a bit inconsistent but this is probably an issue with how the text is laid out for this device.
The Kobo Touch eReader offers so much for the asking price that it is one of this year's outstanding bargains. We have memberships on almost all the eReader services but are frustrated by the fact many of the titles we like aren't openly available because we are in Canada. No such inconvenience with Kobo. Battery life is outstanding and will give week's worth of reading on a single charge.
Kobo's great ecosystem, constant innovation make this a serious player and it is going International starting this month.  The Kobo Touch eReader is a great Canadian product we can all be proud of.
 For the latest on the new era of digital reading, follow our Gadgets channel