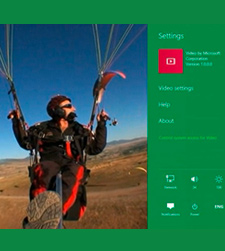 By Gadjo Cardenas Sevilla
Microsoft came out strong at yesterday's BUILD Conference keynote. The software giant didn't just unveil the tile-powered Windows 8 for PCs and tablets but also revealed a unified OS. BUILD is a five-day design event that is being held in Anaheim California from September 13 to 16.
There are two big stories with Windows 8. The first is that it is receiving a complete visual overhaul that owes a lot to the Windows Phone live tile interface as well as to the Zune look and feel. Windows 8 will still be able to revert to the icons and folders look but Microsoft is pushing forward with the new touch-focused interface.
The second story to Windows 8 is that it will also be a tablet OS. In fact, the best news of all for developers attending BUILD this year (aside from that free Samsung-made Intel Core i5 tablet they all got), was that all it will take is a few lines of code to enable an app to run on a Windows PC, a Windows tablet and Windows Phone.
One OS to Rule them All
This  all hints at a not-too-distant future where mobile devices such as phones and tablets will be running the same OS as desktops.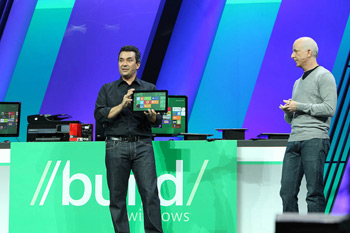 The funny thing is Microsoft tried this 10 years ago when it attempted to shoehorn Windows into Windows Mobile and TabletPC but the approach was bringing the desktop experience to smaller devices (bad), now it seems the other way around with touch-control from Windows Phone serving as the catalyst for unifying apps and the user interface (good).
Microsoft also showed the Microsoft Store, an app store that will serve as Windows 8's built-in shopping mall for apps. Microsoft was also able to show off some very compelling new hardware that will run Windows 8 natively.
Aside from the special developer tablet (which is a full-featured PC complete with a dock and the ability to power dual monitors plus it comes with 2 Gigabytes of  3G data a month for free from AT&T), Microsoft's President for Windows Steven Sinofsky showed off a bevy of tablets running rival chips from Intel and from ARM.
Also shown were the next generation of ultrabooks, which are extremely thin-and-light notebooks that have the latest Intel Core processors as well as long battery life.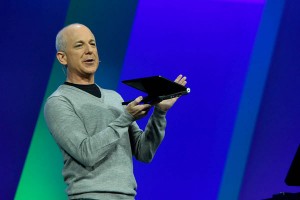 Fissures felt in the WinTel Alliance
While BUILD was taking place in Anaheim, CA and Microsoft demoed Windows running on alternatives to Intel's chips, Intel's Developer Forum (IDF) was happening concurrently in San Francisco, CA, where the chip-maker demoed, among other things, upcoming Intel Atom processors running Google's Android OS.
It is no secret that Intel wants in on the mobile space and has tried to develop low-power chips for smartphones, but it looks like Intel has made the choice of who to partner with in this mobile war.
Microsoft, on the other hand, stated that Windows on the ARM architecture is still a ways off but the fact that they are revealing it at all means they will pursue this alternative.
It is also interesting that in the recent face-off to buy Nortel's  mobile patents, Microsoft sided with the Apple, Sony, Ericsson and EMC cabal while Intel was the only company to side with Google.
The fast-paced mobile industry is changing the tech industry on an almost daily basis. With PC's taking the back seat to tablets and smartphones, the WinTel (Windows and Intel) alliance that has ruled together for decades is likely going to give way to a series of new and intriguing team-ups where the old rules no longer apply.
Windows 8 Impresses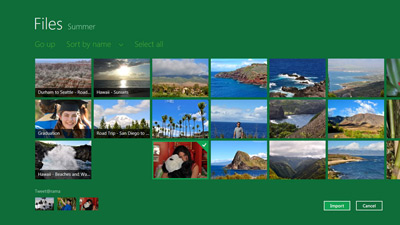 After seeing the demos of Windows 8, there's no denying that Microsoft is poised to maintain its position as the leading operating system developer. Windows 8 was shown to be fast (bootup in 1o seconds), secure (security at every level), easy to use and with the new Metro tiled user interface and the 'charms' (useful icons) make the OS very attractive and fun to use.
There's no telling how the business class and the enterprise will react to Windows 8, which now relies heavily on touch gestures as demoed on touch-enabled all-in-one PCs and monitors as well as tablets.
We feel the user-focused nature of Windows 8 and its universal (tablet + desktop) functionality will appeal to consumers, provided the hardware is reasonably priced.  Intrepid souls can download the Windows 8 beta now but it offers no support from Microsoft, so play safe.