Everyone has a smartphone these days, and most people also have a laptop or computer. But tablets sit in that strange in-between position where for some, it's not needed. But others find having one essential. Why?
There are a few reasons why a tablet is a worthwhile investment. Not all of them will suit every user, but you may find that a tablet provides a better experience in certain situations and when performing certain tasks. And that might justify getting one to add to your tech arsenal.
Better for travel, vacation
While airlines have seatback entertainment systems, sometimes you want to watch your own downloaded video content. Or maybe you need to review important documents or play offline games. You can use your phone, or a laptop, but it's far more comfortable to use a tablet. You get a larger screen experience than a phone with a more compact form factor than a laptop. Content downloaded from streaming services can only be downloaded to a mobile device, not a laptop. And a tablet is easy to prop up on an airplane tray then slide into the seat pocket when you need to head to the bathroom. You can also enjoy a seamless touchscreen experience. Once you arrive at your destination, tablets in a protective case are great for reading on the beach or enjoying in bed on a rainy day. They also take up less room in a travel bag, like a carry-on. This means that for short overnight business trips, you might even be able to get away with leaving your laptop at home if you bring along a premium tablet instead.
Creativity uses
The creative possibilities with a tablet are endless. Combined with a stylus and the touchscreen, you can sketch, draw, work on plans, snap photos, and more. Using software, you can edit photos and videos, putting together eye-catching content for a website, social media, and more.
The experience is more casual and comfortable on a tablet than a laptop or desktop computer. And it's easy to doodle, draw, sketch, or create from virtually anywhere inspiration might strike.
Taking notes at school, work
If you like to take notes, the old-school method of pen and paper isn't exactly ideal. And if you have ever tried to take notes in a seat with a small side table, or even in a seat with no table at all in a lecture hall or meeting room, you know that doing so with a laptop isn't very comfortable. Particularly for left-handers, having to use both hands to type or take notes can be challenging when seating is close to others at a conference, for example, or small roundtable meeting.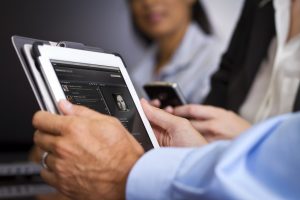 A tablet, however, makes things simple. You can hold it with two hands, writing with only one versus requiring ample space on either side of you to type with two hands. With many tablets like the latest models from Samsung Galaxy and Apple, you can also easily convert these notes into typed text, then work on them like you would a traditional typed document.
Good option for young children
A tablet is a good compromise for kids who aren't quite old enough yet to be trusted with the responsibilities of a phone. For kids aged 6-10, you can use a tablet to test their level of responsibility before moving up to a more expensive phone and contract once they are of the appropriate age. For younger kids, buying a rugged, kid-friendly tablet or tablet in a kid-friendly case gives you peace-of-mind when you want to hand them a device for limited screen time. It's a better option than handing a six-year-old your expensive smartphone to watch a 10-minute cartoon. There are so many tablets designed specifically for kids from brands like Amazon, Samsung, and Leapfrog, with models geared towards toddler-aged kids all the way up to teens and tweens. While older kids might have their own Chromebook as well, a tablet provides a nice division between a device they use for education and one for downtime.
Use as a lightweight, portable computer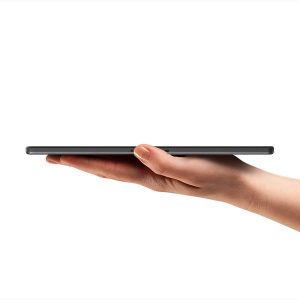 Combine a premium tablet with a compatible magnetic keyboard, mouse, and/or stylus and you can have a fully functioning portable computer on-the-go that is lightweight and compact for bringing with you to meetings, travel, or remote work. When you don't need the peripherals, you can simply pack them back up and use the device as a traditional tablet again. While you can accomplish the same with a 2-in-1 laptop, a tablet with relevant accessories and computing software offers the best of both worlds. And you might be able to get one at a fraction of the price, especially if you already have a laptop you love and don't want to switch.
-30-
More on tablets
Win Amazon Fire HD 8 8″ 32GB FireOS Tablet with MTK/MT8168 4-Core Processor