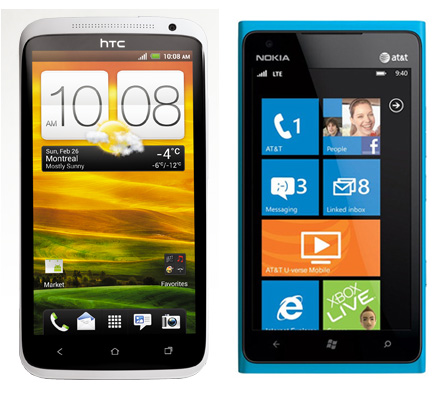 By Ted Kritsonis
Two key smartphones, one which made headlines at CES in January, and another that has been unveiled at Mobile World Congress in Barcelona, have been confirmed to come to Canada in a short time, though no official launch dates have been announced.
The Nokia Lumia 900 is almost the de facto "super smartphone" for the Windows Phone operating system. It's among the first batch of Windows Phone devices that are the culmination of the marriage between Nokia's hardware and Microsoft's software.
Rogers has been confirmed as the carrier, but they haven't revealed pricing or availability yet. What is known is what the phone will offer. It will run on a 1.4GHz processor, have 16GB of internal storage (no memory card slot) and use an 8-megapixel rear camera with a nice Carl Zeiss lens. The front-facing camera has a 1-megapixel image sensor, making video calls possible.
The 4.3-inch AMOLED screen is on par with most of the premier Android smartphones that have launched in the last six months. And Rogers has confirmed that the Lumia 900 will be LTE-enabled for faster browsing and streaming.
While Windows Phone is naturally the software centrepiece of the device, Nokia Drive is unique in that you get a fully-featured turn-by-turn navigation app that could replace a GPS unit outright. Two other Nokia apps that seem to be interesting are Nokia Reading and Nokia Transport. Reading aggregates news, ebooks and other documents together in a tile format like Windows Phone's main screen. Transport is offers door-to-door, underground, tram, suburban train, and bus directions for over 500 cities across 46 countries.
The stakes are high for the Lumia 900, as it could signal a surge in interest for the Windows Phone platform, of which Nokia's and Microsoft's fortunes in the wireless industry are so closely tied. Should be an interesting story to watch.
Meanwhile, HTC announced two similar phones under its "One" series. First, is the HTC One S that will be launching with Telus "soon". It will run on Android 4.0 Ice Cream Sandwich and use HTC's Sense 4.0 overlay.
The 8-megapixel camera is something the company is already touting as a huge feature, which it calls PureCapture. The marketing message says that the camera is good in low-light situations and the Burst Mode makes it easy to shoot objects in motion. Interestingly, integrated Beats Audio is apparently also part of the mix.
There's a 4.3-inch Super AMOLED screen, albeit not a 720p resolution. The Snapdragon S4 processor is dual-core, not quad-core, but HTC claims that the difference may not be that noticeable.
But the flagship of the One series is the One X, which will be coming to Rogers sometime soon as well. The One X will be LTE-enabled, run on a 1.5GHz dual-core processor and have the same camera the One S has. But the One X is the more powerful device, and the 4.7-inch screen will offer 720p resolution.
Naturally, the One X will run on Android 4.0 Ice Cream Sandwich, and like the One S, will have a lighter and leaner Sense overlay.
The camera may ultimately prove to be the key differentiator with other smartphones, primarily because its F2.0 lens is the widest of any smartphone lens currently available. By comparison, the iPhone 4S has an F2.4 lens. HTC has also managed to increase shutter speed to as low as 0.7, which is incredibly fast for a phone as well.