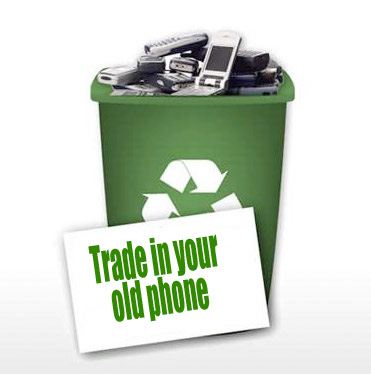 Increased adoption and shorter lifespans for mobile phones have led to a large number of devices festering in consumers' homes, and while eBay, Kijiji and Craigslist are always options for reselling handsets, some carriers and major retailers are offering trade-in programs for either cash or credit towards a new phone.
Telus
Telus's trade-in program was only recently announced in March, and it offers the option to trade in up to three phones up to a maximum combined value of $200. If you happen to have a single smartphone that's worth $200, you can go that route too. The cash or credit can then be applied to a new phone and activation with Telus.
The interesting caveat here is that trading in a phone with a $200 value might be able to help you terminate your contract as well. For example, carriers offering phones at reduced prices on contract terms are subsidizing the upfront cost of the handsets, so they expect you to stay through the duration of the deal to recoup their initial cost.
Let's say you have $200 left on your current phone's subsidy (Telus actually lists this figure on your monthly bill), but you can get back $200 from trading it in. If you go through with it, the contract can be voided because Telus recouped the subsidy from your trade-in value. Doing it that way, you naturally can't use the credit towards a new phone and contract from Telus, but you are home free to go to another carrier. But if there's $350 left on the subsidy, you'd be better off using the $200 towards a new phone under the same contract.
The issue here is the $200 limit. Trade in an iPhone 4 or 4S and that's the most Telus will give you. An iPhone 3GS only incurs a $100 credit. Those are low numbers compared to what they could fetch on eBay, Kijiji or Craigslist — especially if they're unlocked. It should also be noted that the iPhone is the one device exempted from Telus' unlocking policy.
In the event your phone has no value at all, Telus has teamed with eRecyclingCorps in Missouri to recycle them, and will also donate $3 for each handset to Tree Canada.
Fido
Fido has a trade-in program called FidoTRADE where the carrier will accept "any used phone" and give you a credit for its value, so long as you use that credit toward buying and activating a new phone with them. Of course, not every phone will have a value, so in the event your phone is basically worthless, Fido will plant a tree on your behalf.
The tree-planting program is done in tandem with Flipswap, a California-based company that offers phone recycling services.
Fido says it will accept any phone from any carrier, even if it's an overseas one. The value is determined by whether it turns on, has anything broken, cracked or missing, if there's water damage and that the screen works properly. However, you can only get your phone appraised and trade at an actual Fido store or kiosk, so it's hard to determine what value you might be holding through the website.
Future Shop
The big box retailer includes phones as part of its "Flip Your Tech" trade-in program, whereby they will give you a gift card equal to the value of the handset you trade in.
Naturally, the program only works in stores, so there's no way you can assess a phone's value or trade it in through the website. Not every store is able to do it either. You can check which locations do by going to this page and checking the Flip Your Tech box. It should also be noted that stores in Nanaimo, Kelowna, Winnipeg, Markham, Richmond Hill and Vaughan are not part of the trade-in program.
Like the others, Future Shop will take a phone with zero value for recycling and plant a tree in your name.
Best Buy
Best Buy Canada also works with Flipswap in taking in old phones as part of the wider Mobile Trade In Program, and as is the case with their competitors, you get a gift card for your trouble. Unlike Future Shop, you can have your phone appraised on the site, and if you like the number you see, you can print a prepaid shipping label and send it over to them. You would then get your gift card in the mail three weeks after receipt.
The only other devices the program is open to is Apple's iPods, and you can get as many devices — even if it's a mix of phones and iPods — appraised as you can fit in a box at one time.
If your phone has no value at all, then Flipswap will plant a tree for you.
The Source
The Trade Up & Save program applies to more than just phones, but if you're curious what you can expect to get for your old handset, the site has a built-in calculator that gives you an estimate. To give you an example, an iPhone 4S 64GB can fetch up to $315, which may be more than other programs are willing to give, but still considerably less than what that phone would get on the open market.
The amount you get comes in the form of a gift card, so don't expect cash. If you like this arrangement and the amount you would get, you just print out your estimate and take it to your nearest The Source retail location for them to process and give you your card.
In the event your phone has no value, The Source will have it recycled for you.
Alternatives
Though we can't go in-depth with all the alternative options in this article, other trade-in programs and Web-based businesses have risen in the last five years. Sites like BuyMyTronics, Gazelle and MyBoneyard have been around for a while and more are popping up though they don't all fully cater to Canadians yet.
Then there are sites like CellClients and CellSwapper, which allow you to not only sell a phone, but also unload the contract that goes with it to a fellow Canadian consumer. Though not exactly "trade-in" sites, they do both provide an alternative that helps you divest yourself from both your phone and your carrier in one fell swoop.
As for Bell and Rogers, they don't offer trade-in programs, but rather "handset upgrade programs" to make it easier for their customers to move on to better phones earlier into a contract term.