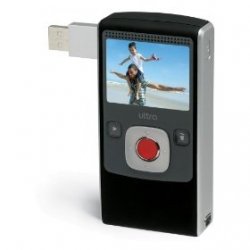 It's been a year since Cisco announced that it would discontinue the Flip pocket video camera, and with it gone from store shelves, videos previously uploaded to the FlipShare video storage and sharing software will be deleted for good on April 15, but there is an alternative to keeping them alive.
FlipShare was initially the software arm of the Flip camera, and predates Cisco's takeover from Pure Digital in April 2011. At the time, it offered quick uploading to YouTube and Facebook, but it was also designed to be a permanent repository for videos that users could access and share at any time.
Despite Cisco deleting previously uploaded videos, the company will allow users to keep uploading videos to FlipShare, albeit with a 30-day lifespan before those too are removed. FlipShare is set to close down completely on December 31, 2013.
As an alternative, Cisco is offering a service called Givit, a cloud-based sharing platform that can store videos as well. Givit has an exclusive deal with Flip whereby users can transfer — "with one click" — entire libraries of videos from FlipShare for archiving and sharing.
The service moved out of beta only five months ago, and is designed to be a place for sharing videos privately with people the uploader chooses themselves. Part of the idea is to avoid public eyes watching like YouTube (though YouTube offers a private viewing feature as well). Facebook also offers video uploading restricted to a user's friends list or specific friends.

There is a catch though. Givit says it can only migrate videos that have been shared with friends or family because the service can't migrate anything directly from your computer. Shared videos have been uploaded to Cisco's web servers, which is where Givit accesses and transfers the videos over. Videos up to 1GB in size can be transferred.
Flip videos are usually shot in an MP4 format, but Givit will accept a number of file formats, and can be used on a PC or Mac. There is an initial limit, however, on how much footage you can actually store on the site. Givit offers 2GB of storage free, and you can buy more through its "premium" service
This is important to note because the 2GB limit does apply to Flip videos migrated from FlipShare. The way it works is that Givit will provide a grace period of 90 days after migrating the Flip videos over, wherein the site will limit your access to the 2GB worth of video you most recently uploaded.
After another 90 days, if you still haven't bought more storage, Givit will automatically start deleting the oldest uploaded videos first until you hit the 2GB limit. Pricing options look like this:
10 GB             $29.99
25 GB             $4.99 (monthly)
$49.99 (annually)
50 GB            $9.99 (monthly)
$99.99 (annually)
Givit also has apps for iOS and Android that have recently launched, though they aren't related to the FlipShare migration option. The apps have an option for sharing videos shot on the iPhone or Android devices.