By Gadjo Cardenas Sevilla
With its new iPad, Apple is declaring a post-PC future where tablet's can satisfy the computing needs of most people. The iPad is aspiring to become  everything a computer user needs.
While the new iPad with its Retina Display, faster graphics and LTE data capability was considered an evolutionary upgrade over the model it replaced, the new features were more than enough to keep it far ahead of all tablet competition. Aside from specs and capabilities, the success of the Apple iPad is in the intangibles.
The fact is, the iPad is easy to pick up and use. Everyone from toddlers to their grandparents can figure out the device and its key multi-touch features in a matter of minutes.Then there's the rich app ecosystem, which was already unparalleled in the industry but is now undergoing an even more significant change.
The casual $1.99 apps are slowly evolving into $4.99 to $9.99 and higher productivity applications that aim to rival the functionality of traditional desktop apps. Players like Adobe Systems and quite possibly Microsoft are looking at the iPad as a platform worth developing applications for.
While competing tablets do exist and range in size, price and capabilities, none has come close to catching up in sales, or in popularity, the iPad. It has sold an estimated 55 million units globally since it first went on sale in 2010. Now that it is widely available in a number of countries, the iPad  can only gain momentum in market share.
Third Generation's the Charm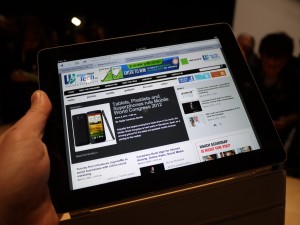 The new iPad features the new 2,048 x 1,536 pixel Retina Display (three million pixels in a 9.7-inch screen) and fast 4G LTE (Long Term Evolution) data connectivity compatible with Rogers, TELUS and Bell.
Apple has also ramped up the built-in camera which is now 5 megapixels and captures crisp HD video at 1080p resolution. The iPad adds a useful voice dictation feature that makes it easier to write emails, messages or notes.
The iPad's new display renders extremely detailed images, videos and text. It really has the clearest and most stunning screen I have experienced on any device today.
Possible PC  Replacement
The new iPad is just as speedy as the iPad 2 for most tasks, which is remarkable considering this model needs to push 4 times as many pixels on that display. LTE data was as fast as office WiFi within the LTE coverage areas.
As a PC replacement, the iPad offers fast Internet access anywhere it can connect to LTE; it is far more portable and can easily churn out 9 hours of use on a single charge. What aren't there just yet are desktop-level applications, but this is changing fast.
Apple released an updated iWork office suite with full featured spreadsheet, word processor and presentation apps as well as a new iPhoto app which brings desktop level image editing features to the tablet.
Similarly, Adobe's Photoshop Touch, a $9.99 app, brings the first major desktop application to the small screen, and other apps like Intuit's QuickBooks Mobile are now available and more are sure to follow.
The Wi-Fi only versions of the new iPad are $519 for the 16GB model, $619 for the 32GB model and $719 for the 64GB model. For Wi-Fi + 4G versions, the price is $649 for the 16GB model, $749 for the 32GB model and $849 for the 64GB model.
With the new specs, LTE connectivity and the growing availability of more PC-like apps, will the iPad really usher in the Post PC era of personal computing?