By Lee Rickwood
Surely, among society's greatest uses of and accomplishments with technology, it's the ability to make, decorate and dispense — yes, dispense — cupcakes!
We can take pride in the fact that Ontarians are making significant contributions to the growing field of advanced robotics and yummy baked goods.
And that we've developed a mind-bending cupcake app.
More on that later, but know that food processing is big business – $34 billion in Ontario alone. Preparing and packaging the food we eat makes for a huge provincial industrial sector, and a key technology driver.
What's more, it has more than 130,000 direct jobs and another 483,000 workers in related sectors.
Like cupcake making.
Collectively, it's all known as the Ontario Food Cluster, the second largest food and beverage-processing jurisdiction in North America.
Recently, OFC representatives were taking their message even further afield, when they attended SIALBrazil, the Latin American Food Marketplace and trade show, promoting new food processing technology developed here.
Including a laser-guided cupcake maker.
The unique device, created at the new Conestoga College Institute of Food Processing Technology (IFPT), shows how the IFPT program works with other existing Conestoga programs, like Robotics and Electronics, to develop marketable new technologies, and train the workers that run them.
"The food industry is becoming very technically advanced and is having difficulty finding suitable hires," said Barry Bremner, a technologist with IFPT. "The college getting involved in industry keeps us in touch so that we are working towards training students that are of value to them."
The IFPT opened in the fall of 2011 as part of a recent $125 million dollar expansion of the Conestoga College campus in the Waterloo region.
Students learn to produce baked goods, vegetables and bottled beverages on three dedicated production lines. The lines handle everything from raw materials to finished, packaged products — just like a real food processing plant.
IFPT is the first food industry training facility in Canada to offer programs that graduate specialized, skilled food industry workers as line operators, material handlers, machine operators, maintenance assistants, cleaning and sanitation lead hands, and supervisors.
In a recent real-world class project, students worked with an Ontario food company on a practical solution for improving both efficiency and quality in the production of consumer baked goods.
They developed an application for a robot that can both 'de-pan' cupcakes (quickly, get 'em while they're hot; and gently, without product damage or precious crumb loss!). Depanners can incorporate a vacuum or suction type removal process, or in this case, a series of long finger-like needles which lift the product out of the pan.
What's more, like icing on a cake, the Conestoga robot has the added benefit of being able to 'paint' colourful and customized icing patterns on the pastries with laser-guided precision.
"IFPT graduates are ready to handle the latest touch-screen computer and robotics technology. The Institute's creation was driven by the Alliance of Ontario Food Processors who made it an industry priority," described Luis Garcia, Chair of IFPT.
Now, about that mind-bending cupcake app.
Using not laser-guided precision, but thought wave-guided motion, an Android and Windows app called UpCake challenges the user to 'push' an on-screen cupcake upwards across the screen, avoiding obstacles along the way, using just mental acuity and concentration.
Like mind over cupcake.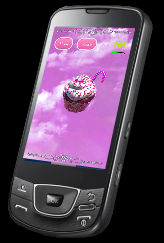 The app connects to sensors on a special headband that users wear; it monitors brain wave activity: partly to have fun with the app, but also to detect potential health problems like mood disorders, depression or even an upcoming stroke.
UpCake 2.0 is coming, says Ottawa-based developers Personal Neuro Devices, and the company adds that later this month, it will open its doors so visitors can interact with other in-development apps it has in mind.
One would hope there'll be cupcakes and coffee available, and if so, there's another great new high-tech gadget that can help out.
An automatic cupcake dispenser.
This incredible new technology is from a California company called Sprinkles.
If you don't know them, you should. They are, like, cupcake makers to the stars! It's a genuine Hollywood phenomenon, with lots of glitz and glam, along with dedicated craftsmanship and fine quality ingredients and incredibly good cupcakes.
They recently installed this colourful machine innocuously on an L.A. streetcorner, like a bank machine but for fresh cupcakes! There's gotta be a franchise plan there, somewhere…
So, Ontario expects to grow agri-food industry revenues about 15 per cent, up to $40 billion, by 2013.
Here's my suggestion: marry the Sprinkles ACM to the Conestoga robotic cupcake maker, and let customers use the thought-screen to pick among the flavours and icings!
-30-