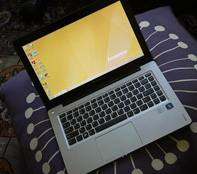 By Gadjo Cardenas Sevilla
With the Back to School season around the corner, the search for the ideal notebook for school becomes crucial. Here are some notebooks with the right mix of features and portability.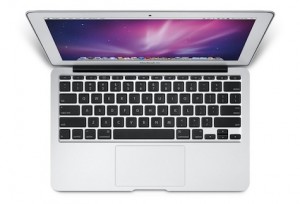 Apple's entry-level MacBook Air isn't just the most compact notebook the company offers, at 2.38 pounds it is also the lightest. While the $1,029.00 represents the higher end for an entry level machine, students are getting the latest Intel Core i5 processors, 4GB of RAM and 64GB of SSD storage (upgradeable on build to order units).
Already an extremely compact notebook at 11-inches, the MacBook Air can become a full-featured desktop at home or in the dorm when paired with an external monitor, keyboard and mouse.
A 7-hour battery life is ample for the demands of the day although from my experience you can get 7-hours by turning off WiFi and lowering the screen's backlight. With radios on and running normally, you are looking at 4-5 hours use on a single charge.
The addition of the high-speed Thunderbolt  and USB 3.0 ports make it possible to connect to various high speed external drives, peripherals and printers. Backed by Apple's famous service and support as well as the ability to run multiple operating systems, the 11-inch MacBook Air and even the larger 13-inch version are reliable and multi-faceted notebooks that can easily satisfy what students need without weighing them down.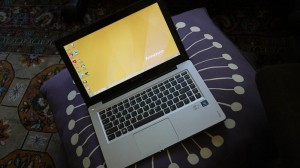 This is Lenovo's take on the Ultrabook and it features almost everything a student could want. Currently selling for around $729.00, the U310 is a very attractive option for anyone seeking a lightweight yet full featured notebook with a 13.3-inch HD widescreen display and a solid 1.7GHz Core i5 Intel "Ivy Bridge" processor.
There are no excessively sharp corners, everything is designed for tactile pleasure with smooth edges and rounded corners. Even the AccuType style keyboard is designed to be great to type on for prolonged periods of time. Lenovo has  even designed the IdeaPad U310 to resemble a thin book with scalloped corners.
The aesthetics are subdued and elegant without catching too much attention and all the necessary ports such as HDMI, USB, a card reader and headphone and microphone ports are all present and easily accessible. I was thrilled to discover that the IdeaPad U310 offers USB 3.0 ports for faster connectivity.
The IdeaPad also features a 720p HD webcam with face tracking features. The IdeaPad U310 is built for performance and heavy day to day use.
Like many IdeaPads, it offers a good balance of features and durable design and aesthetics that will suit most users. Best of all, the IdeaPad U310 is just 0.71″ thick and weighs only 3.7lbs. The price is also right fort his notebook, users will feel they are getting a lot of features for the money.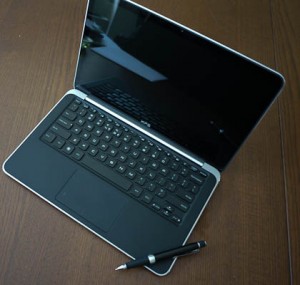 Dell has outfitted the XPS 13, starting at $1,099.99, with a machined aluminum case as well as a bonded Gorilla Glass screen. The bottom of the XPS 13 is coated in silicone which adds substantial grip and protection plus makes the XPS 13 feel more than adequate for day to day use.
It is rare to see a thin and light notebook that also feels surprisingly sturdy. Dell has managed to do both in a truly portable package. This notebook feels like it can take a beating and while heavier than competing models  at 4.7 lbs, will satisfy more rugged use cases.
In terms of battery life, the XPS 13 really delivers all-day computing. Boasting 11-hours of battery life on a full charge is more than enough for most users and will shine in any long-haul flight thanks to the 69WHr 8-cell Li-Polymer battery. During my tests, I was able to squeeze 8-9 hours  of battery with the WiFi on.
I/O connectivity is composed of 2 USB 3.0 ports, one mini Display Port, one HDMI port and a RJ-45 port plus a 3-in-1 card reader, headset jack and a mini Kensington lock for security. You also get a 1.3MP webcam with dual array digital microphones which are great for Skype and similar
This is a 13-inch notebook that feels and looks more like a 12-inch model. Dell has managed to design and craft a thin and  relatively light ultraportable with optimum scresen space.
While there are certainly cheaper and larger notebooks in the market, the three we're featuring here focus on power and portability as well as next generation features that should serve their users for a longer period of time.