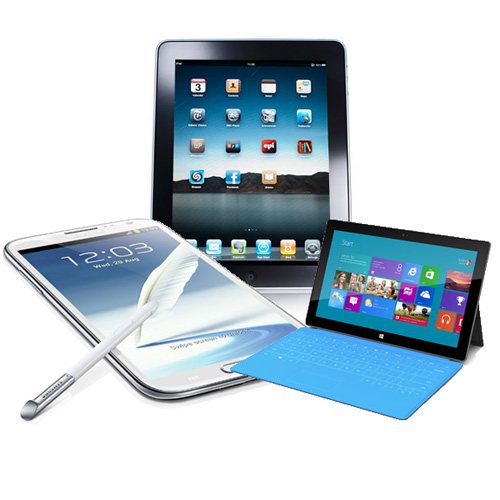 It looks like October will be packed with some big tech news as three highly anticipated products come to market within a seven-day span. The stage is seemingly set for a busy lead-in to Halloween with Apple's phantom iPad Mini, Samsung's Galaxy Note II and Microsoft's Windows 8 operating system.
Of the three, the iPad Mini is the only one that isn't a sure thing because no announcement has yet been made, and no invitations have gone out to media for a launch event. But this is likely just a matter of days, as it's widely expected the smaller iPad will be unveiled on October 23 at an Apple event in San Francisco.
The iPad Mini is said to have a 7.85-inch display (no confirmation if it will be a Retina one) and be priced in line with some of the less expensive tablets that have bitten off a small chunk of the overall market. The new device was originally rumoured to be launched on October 17, but supposed production and logistical delays have bumped that down to the 23rd.
We'll be covering whatever it is Apple launches that day right here at WhatsYourTech.
Only three days later, Microsoft is set to finally raise the curtain on Windows 8, the latest version of the operating system. The new-look Windows will be the first major departure from the previous designs leading up to Windows 7. The tile-based home screen and interface is largely inspired from the now-defunct Zune and Windows Phone user interfaces, which featured prominent fonts and visual cues on a horizontal slide.
The launch is coupled with the debut of Microsoft's first foray into the tablet market as a hardware manufacturer with its Surface RT. The 10-inch tablet will run on the "RT" version of Windows 8, and come with an optional keyboard cover that could potentially turn the device into a mini-laptop.
Pricing for the Surface RT has been a mystery, though a floor of $300 seems to be in range after Microsoft CEO Steve Ballmer suggested Surface tablets would range in cost between $300-$800. At $300, that would still make the Surface RT more expensive than cheaper tablets like the Nexus 7 and BlackBerry PlayBook.
Availability will also be limited to four "pop-up stores" in Toronto, Edmonton, Vancouver and Burnaby, B.C., plus Microsoft's first Canadian retail store at Yorkdale Mall in north Toronto.
The operating system itself will be $69.99 for a DVD copy. There will be an Upgrade Assistant available for $39.99 from the Windows website. Consumers who purchased a Windows 7 PC from June 2 and onward will be eligible for a reduced upgrade price of $14.99.
And last but not least, Samsung will officially launch its new Galaxy Note II "phablet" on October 30. The new smartphone, with a large 5.5-inch display, comes off the success of the previous Note, which launched in February. At the time, the large 5.3-inch screen and S-Pen stylus stood out as unique for the industry. Ever since, more handsets have crept closer to the 5-inch display form factor, but the stylus remains largely a staple of the Note and Note II.
Telus, Rogers, Bell, Wind, Mobilicity, Videotron and SaskTel have all been confirmed as carriers for the device, with sales beginning in earnest on October 30. Pre-orders have begun with Mobilicity already.
The Note II will have a 1.6GHz quad-core processor, 2GB of RAM, plus enhancements to the S-Pen. It will also be LTE-enabled like the first one was, except for the carriers who don't have LTE networks.
Pricing hasn't been revealed as of yet, but likely will a week before launch.