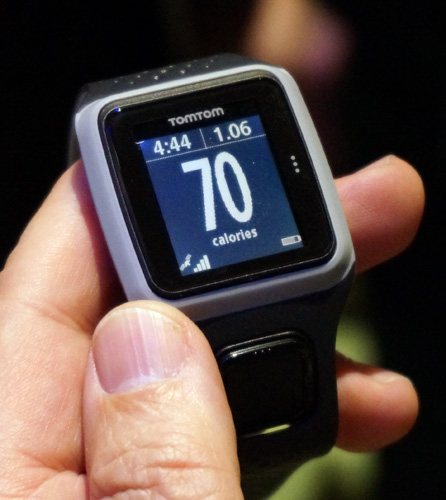 AMSTERDAM – TomTom is known most for portable navigation units and maps, but the company is betting that a new strategy will help consumers get from one point to another in a slightly different context.
Known almost solely for in-car navigation and mapping solutions, TomTom is a brand staring straight into a declining category in personal navigation units (PND). As more consumers opt for Google Maps or even smartphone versions of TomTom's and other GPS maps, the need to bring in another gizmo into the car seems to be changing.
The company knows this, even if it didn't explicitly say so at its launch event in Amsterdam this week. As part of its effort to "reposition the TomTom brand for the future" it will be doing somewhat of a full court press on fitness and athletic GPS smartwatches. This is part of a retooling of its image to get people thinking of the company in a way that doesn't have to stay within the cabin of a car. It's no longer "Where do you want to go", it's "Where do you want to be".
TomTom believes the smartwatch category is convoluted and needlessly complicated, offering too many features that are difficult to access during activity. Hence, why the Runner and Multi-Sport watches have simpler designs that require a far shorter learning curve. Only one button controls all functions, and the screen is laden with pertinent information in large font in the form of stats, metres, graphs and charts.
They're just 11.5mm at the thickest point, weigh only 50 grams and are completely waterproof. The built-in GPS receiver lies within the button, so that it faces in the right direction — up — at all times. Given that this is actually TomTom's second attempt at a smartwatch — the first in tandem with Nike clearly didn't pan out as planned — it looks like the company will invest heavily in getting athletic consumers to buy in.
Surprisingly, it will have no functionality with smartphones or tablets. You can only sync data over to a PC or Mac. The built-in Bluetooth in the watch is only meant for pairing with a heart rate monitor TomTom will be releasing as an accessory. That's right, the watch won't have a monitor built-in, so there has been a trade-off in features to get the right size and weight.
The watches also seem mainly focused on runners, cyclists and swimmers. Measuring progress while running on a treadmill in the gym is also possible, thanks to the accelerometer inside. But these watches don't seem to cater to other sports quite as readily as other ones do, which is a shame because of the size and weight they have.
When they launch in Canada this summer, we'll see if TomTom is at least off to a good start in focusing more of its future on this emerging category. No price has been revealed so far, so it will be interesting to see if that will be another incentive for consumers to jump on board.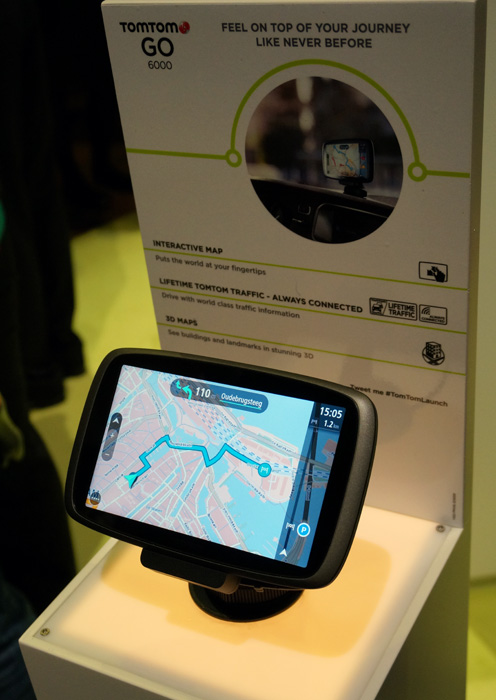 Still, TomTom's core business wasn't to be denied some time in the spotlight. A new flagship PND, the GO 6000, will have a 6-inch display and come with maps and traffic updates free for life. There is a 3G SIM card built-in to the unit that pulls in traffic data in real-time, a concept TomTom first unveiled with its HD Traffic service in 2011. This time, however, there will be no subscription fee to use the traffic features, and users can still make use of it when roaming to other countries the unit supports. Basically, that means you can drive into the U.S. and use it like you would in Canada with TomTom footing any bill for roaming.
There will be three other PNDs to come out as well. The GO 40, GO 50 and GO 60 are all the same, except for screen sizes (4.3, 5 and 6-inches, respectively), but don't have the 3G SIM inside. To get the real-time traffic functionality, users will have to pair the unit with a smartphone or tablet via Bluetooth and leverage the data connection from that. That rules out roaming, since data charges could accumulate rapidly if the feature is being used south of the border on a road trip.
All of the PNDs are reportedly coming to market in Q2, just in time for summer road trips, but the live traffic features are equally important for daily commutes, where one wrong turn can lead to gridlock and stress. An improved user interface and better map graphics should also help what was already a solid product line.
Again, no pricing has been revealed yet, but expect the GO 6000 to sell for a premium based on the built-in data connection.