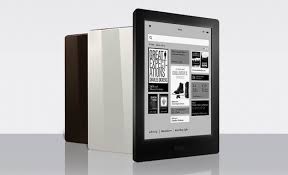 By Gadjo Cardenas Sevilla
eReaders have come down in price while adding better resolution screens, built-in lights and new features. Here are the best options today.
There's never been abetter time to look into eReaders. These small, lightweight and versatile devices can store hundreds of books and interface with your favourite social networks as well
eReaders use E-ink technology that mimics the printed word so it is easy on the eyes. Newer models have backlit screens that make it possible to read in all conditions. Some have WiFi connectivity for quick access to new books and content.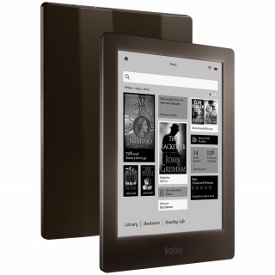 At $169 this ambitious and somewhat audacious love letter to the eReader is Kobo's best ever standalone eReader.
Featuring an incredibly crisp, clear reading experience because with a 1440 x 1080 resolution and 265 dpi, it's the best E Ink screen on the market and honestly way more than most people will appreciate.
The unique angular design of the Aura HD looks and feels like it came out of Frank Gehry's studio, it is a bold design statement that is also quite subtle.
The Aura HD features a capacious 4 GB of built-in memory that will handle up to 3,000 eBooks. Users can store even more eBooks with a Micro SD card.
All of Kobo's popular social reading features are on tap and the Aura HD is expected to last two months on a single battery charge.
The feature of the super-clear 6.8-inch screen is the ComfortLight that ensures you can read under all lighting conditions. Kobo's backlight is even and seamlessly integrated giving users a well-balanced  and wide viewing angle under all possible conditions.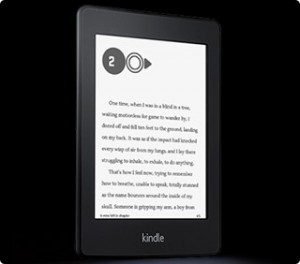 Available as a WiFi only or as a WiFi+3G, the Amazon Kindle Paperwhite is the culmination of six years of Amazon's refining their key eReader device.
Now able to give users the ability to read in dim conditions with a built-in light, the Kindle Paperwhite features an 8-week battery life, holds 1,000 books (no expansion),
The latest Kindle is a superb return to form for Amazon in the segment it helped define. Earlier Kindles tried to be too much of an all around gadget with built-in QWERTY keyboards, media playback capability and features that read-back the text to you in a robotic voice.
There's a purity n the design of the Paperwhite that makes you want to keep using it and which makes reading on it a pleasure.
Priced starting at $129, Amazon is certain to continue winning new customers into its highly evolved eBook reader.
There are certainly smaller, cheaper Readers that will do many of the things that these devices do but in terms of speed and performance as well as built-in light capability, these two are at the top of the heap.