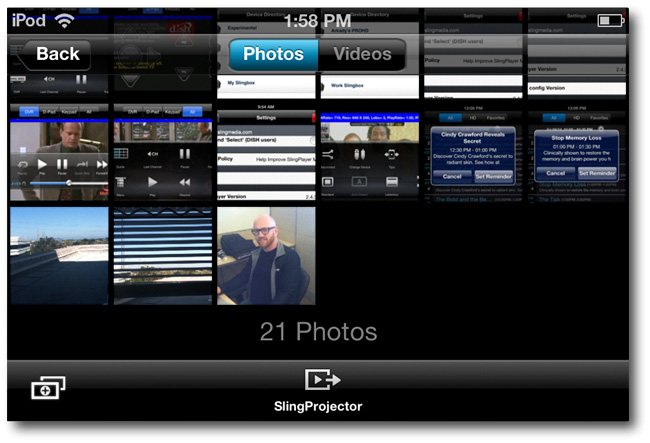 The Slingbox has always been a device with a singular purpose — to take a live TV signal from one location and place-shift it to another over the Internet. The Slingbox 500 now has the extra function of SlingSync, a feature that enables content stored on a smartphone or tablet to playback on the TV the box is connected to.
The feature was originally mentioned when the Slingbox 500 was released in Canada in November, but wasn't available out of the box because it would only go live with a future firmware update. The update rolled out in March, and was coupled with updates to the SlingPlayer app on the iPhone and Android phones. The other versions of the app for the iPad, Android tablets and Windows Phone devices may be released at a later date.
Loading the new firmware should go smoothly, though there is a possibility that it won't, based on feedback some users have expressed on Sling Media's website. If you run into difficulty, resetting the device might do the trick in getting the upgrade to work, though it's a workaround that you hope you'd have to do without.
Update the SlingPlayer app on your iPhone or Android phone, and once both the Slingbox 500 and app are ready, you will see SlingSync appear as an option on the 500's menu and as "MyMedia" on the iPhone or Android. Note that you do have to be connected to the same home network to make this work, so in spite of the Slingbox's main function as a place-shifting set top box, it can't do SlingSync across the Internet like it does with live TV.
While you're able to view media content from your phone, SlingSync doesn't necessarily stream it because it requires that you copy it over to the external hard drive you connect to the USB port in the back. That means that you need to have a drive plugged in just to make the feature work. It's not like an iPhone with an Apple TV, where video and photos can be projected over to the small box for playback on the TV its connected to.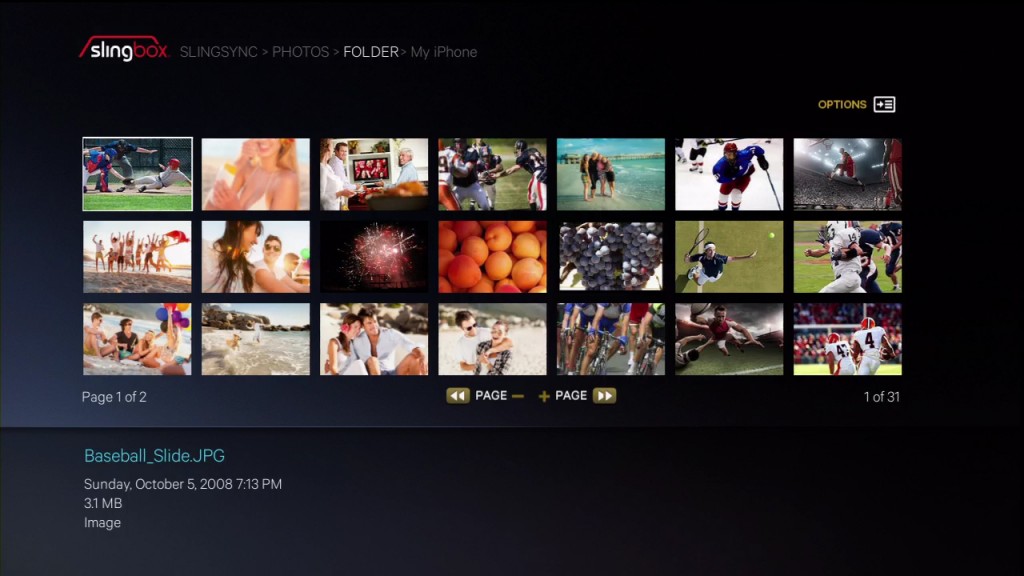 Transferring video or photos is easy enough, since you only need to select what you want to move and then wait for the job to finish. This could take a while if you're choosing multiple videos and every photo you have in your camera roll, so be aware of that. Also, if you've only plugged in a 4GB USB thumb drive in the back, you'll definitely have to be careful about filling it up quickly. Plug in a much bigger drive, and you can always add content to it as you see fit. In a strange way, the Slingbox 500 acts as a quasi-backup solution for photos and video you really want to keep.
Bear in mind that the box can only "see" media stored on the phone's camera and video apps. If you've got others with other apps, you would have to move them over to the default one first before transferring to the Slingbox.
The added bonus of this upgrade is that ability to playback files already stored on the USB drive you plug in the back. Say you have tons of movies and photo albums on there — you can view them at your leisure using the Slingbox as the playback device. It looks like it also supports a good range of file formats, so your chances of a smooth viewing experience are definitely high. The Slingbox remote also controls everything, so you can rewind, fast-forward or pause like you would with any other video. Photo slideshows can also be initiated this way, too.
One missing feature that would've been convenient to have is if the Slingbox 500 could also read and playback files from network attached storage devices. If you have a home server that you load all your media to, you won't be able to access anything from it using the Slingbox, unfortunately, since it's been designed to only read files that are physically connected to it.
Still, this is a good step in the right direction for a box that no longer has to do just one thing well. It's not as slick as the streaming capabilities of competing media players, but it does what it's supposed to with little fuss.