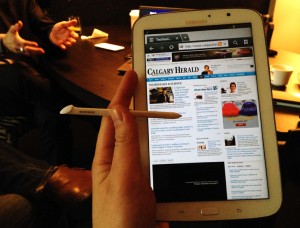 By Gadjo Cardenas Sevilla
While bigger and heavier than its competition, Samsung's Galaxy Note 8 tablet is more than just an upsized Note II, it brings a new use case for Android tablets.I've long been a champion of the smaller tablet form factor since the very first Samsung Galaxy Tab came to market. I've invested in the much maligned BlackBerry PlayBook, the superb and affordable ASUS-built Google Nexus 7, the impressive iPad mini and have made it a point to try most of the 7-8.9-inch tablets in the market. I feel that 7-8 inches is the sweet-spot in terms of portability and convenience.
My current devices are the Nexus 7, which while almost a year old, feels completely new thanks to Google's constant software updates and a powerful quad-core processor and the iPad mini which has replaced the full-sized iPad and iPhone for most uses.
I approached the $400 Samsung Galaxy Note 8 with a lot of curiosity since it is larger, heavier and more expensive than both the $209 Nexus 7 and the $329 iPad mini.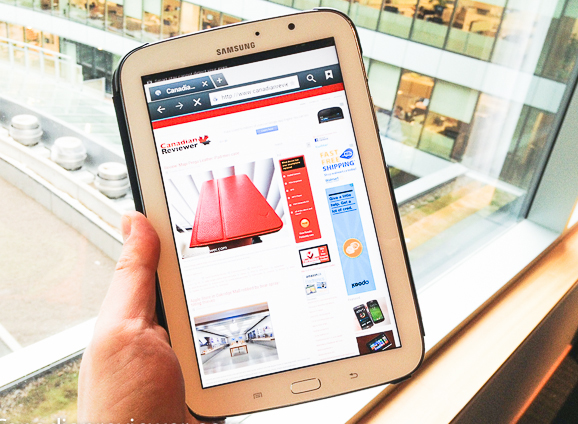 The Samsung features Android OS 4.1.2, has an 8-inch display (1280×800 resolution), sports the S Pen stylus, a relatively recent 1.6 GHz Exynos quad-core processor, 2GB onboard RAM, 5 megapixel camera with a 1.3 megapixel front-facing camera, 4,600mAh battery, 16 GB built-in Storage (expandable to 64GB with a microSD card). These are near identical specs to the Samsung Galaxy Note II, which is a 5.2-inch 'phablet'.
The Note 8 is a solid piece of kit. While constructed in polycarbonate, it doesn't feel cheap and has a surprising rigidity. It feels more solid than the Nexus 7, which suffered from early build quality issues but it pales in comparison to the iPad mini sculpted unibody look and feel.
I found the Galaxy Note 8 to be responsive and quite functional for surfing the web, managing email and using some of Samsung's built-in apps and TouchWiz interface tweaks.
The S Pen, which is a Wacom-built pen and digitizer combo (same one used on the Samsung ATIV PC Pro Windows 8 Tablet), is surprisingly useful in this size of a tablet. While most tablets can take pseudo-pen input, they lack the level of detail, precision and variable pressure that a proper digitizer and pen combination can offer.
In this regard, the Samsung Galaxy Note 8 really delivers a unique experience for artists and any user who prefers to put their ideas on pen and paper and can make the transition to doing this digitally. Sketching, drawing and even colouring using the S Pen on a vivid 8-inch display. You can touch up pictures, create various types of graphics and pull off basic image editing functions that would be painful without a precise tool like the S Pen.
There are limitations to what the S Pen can do. It can't work in tandem with too many third party apps which is a shame since that would really extend the functionality.
The Samsung Galaxy Note 8 isn't all that compelling as a standalone tablet, specially if you compare it size-wise and price-wise to the competition. The S Pen may appeal to certain users and I would certainly consider the Note 8 just because of what you can do with the S Pen except I feel that it is too expensive at $400. That said, Samsung has shown that by developing its Note line in terms of size and functionality, that it can create a niche for itself for which it has no competition. Anyone considering a portable tablet that's sized just right for detailed digital sketching, artwork or precise document input really only has the Samsung Galaxy Note 8 to consider.