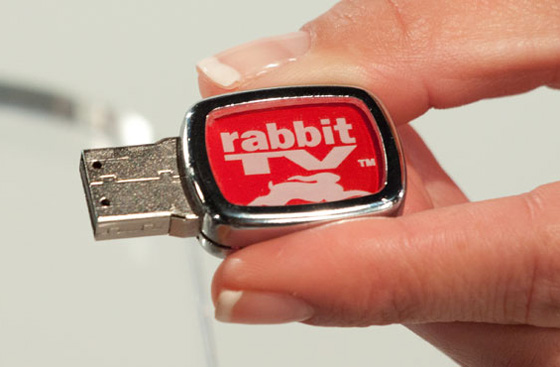 If you've caught a late night infomercial or just happened to come across the Rabbit TV on a visit through a retailer in the U.S., you may have been tempted by its generous offer of giving you 5,000 TV stations. We take a closer look and find there's some particular points that you should know about before you even consider buying one.
The marketing behind the Rabbit TV suggests free access to 5,000 TV stations and 50,000 free movies, which implies that it might actually be a replacement for your cable or satellite TV subscription. Before you pick up the phone and cancel that subscription, you should know that this isn't quite accurate.
The Rabbit TV is a small USB stick that costs $10 plus another $10 for shipping and provincial taxes. That purchase covers the device and the first year of service, where it costs an extra $10 per year for an annual subscription. Aside from the 50,000 movies and 25,000 TV shows it purports to offer, it also throws in 50,000 Internet radio stations. That's a lot of content for a fraction of what a cable or satellite subscription would cost. Is there a catch to that? Of course there is.
For starters, Rabbit TV isn't a content platform that collates the content and offers it on an exclusive service. Instead, it's effectively an index that aggregates free content available through sites like Netflix, Crackle, CTV, Spike TV, CBC, plus the major networks in the U.S., and lays it out in one user-friendly interface. The sources are all legal, but access isn't guaranteed just because you have the Rabbit TV. What the stick (and the software it runs) is essentially doing is making it easier for you to find what's available. Whether or not you can actually watch it depends on a few factors.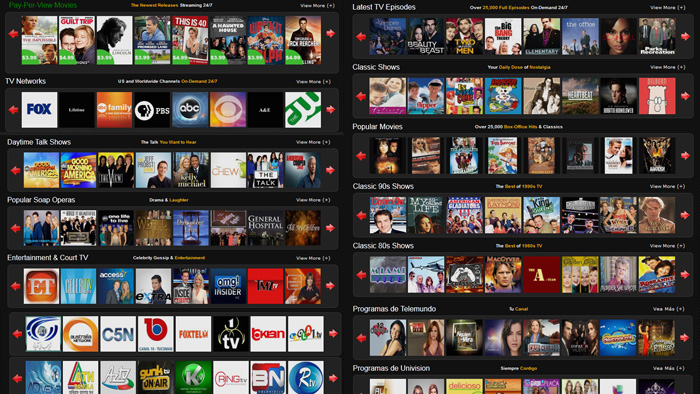 First, some of what you find is geo-restricted, so you can't watch it in Canada unless you use a VPN (virtual private network) to fool those sites into thinking you're actually based south of the border. Second, some of these sites require that you have a subscription with them to watch what they offer. And lastly, you will most definitely not get any access to live TV, if that's what you were thinking.
All the links and sites are legal, so the stick doesn't promote piracy, porn or any other content that might be cause for concern. The kicker, however, is that none of the thousands of sources are unique to the stick. In other words, you can freely access them on the Web already, so there is no exclusivity here.
It does carry one distinct advantage over doing it that way, and that's simplicity. Anyone plugging it in, including a not-so-tech-savvy user, on a PC or Mac computer can access the content with relative ease by pointing and clicking. In that regard, it may have some value, though it's important to note that there is a slight learning curve to keep in mind.
And yet, the stick has its share of critics. It's been judged a scam by some and a regular device with a misleading message by others. Some of that criticism is warranted and deserved, but if it were a scam, it would either not work as advertised at all or have extra hidden costs that quickly erode the notion of anything actually being "free".
There have been complaints that hidden costs can balloon bills to $75, though we didn't experience anything like that after signing up, so we can't verify those allegations. What can be said is that there are key points to remember.
Boasting about a big number of shows and movies is fine, but there isn't anything exclusive to the stick, and much of that figure is made up of a selection that isn't likely to be appealing. Also, though the Rabbit TV says it offers access to local TV stations, it doesn't really do that for Canada. And when it does, it may be channels or shows you've never heard of.
Is Rabbit TV a shady product? Yes and no. It is misleading in what it claims to offer, but does collect a lot of content on the Web in one place. For users who have no knowledge in where to go to find it themselves, that kind of simplicity might work well. Had the messaging been clearer in expressing those points, it actually might be even better than it is, but since it doesn't, there's not much more to add. It's priced low enough to experiment with as a gateway to all that content, but make sure to measure your expectations so that you don't feel like you got ripped off.