Samsung has released a new model in its NX line-up of smart connected touch-screen cameras, the NX2000.
The 2000 fits somewhere in the middle, with its 3.7″ (93.8mm) WVGA fixed screen across the back and a separate, attachable flash unit (the 300 model, for example, comes with a built-in flash and a flip-out viewscreen).
Either way, it can make big, rich, detailed photographs and full high definition video, with a 20.+ Megapixel CMOS chip.
A 20-50mm F/3.5-5.6 ED zoom lens comes on the Samsung NX2000; it is detachable and there are optional lens types (including a 3D lens) and accessories available.
The NX2000 is operated on-screen for the most part, with just a few physical buttons on its top and backside.
What's nice is the almost instant-on slider and shutter release button on top, making the camera ready for shooting immediately. There's no OS-like software loading time, and the camera doesn't even care if you accidentally left the lens cap on when powering up, so it's ready to shoot right away.
The form factor seems a little heavy for its size, but the camera's comfortable enough for shooting: a right-handers grip and thumb rest with the left hand wrapped around the lens itself.
One other button or dial on the top of the camera helps users get to its main menus and features, then there's touch-and-tap screen selections on a series of more specific function displays.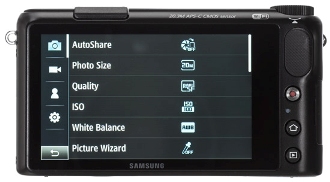 Fully automatic or manual shooting modes can be selected with that top dial, and a series of touch screen menu selections follow; the navigation is just a little cumbersome sometimes.
But there are several settings for full creative control over image-making, with shutter (from 1/4000 sec. to 4 min.) or aperture settings and priorities; fast ISO up to 25600, spot metering, touch-screen focusing control and the like.
The camera also has several built-in image presets and automatic special effects, 'best-shot' bracketing and continuous shooting modes, along with three customizable memory stores for your own image settings.
There are menu-based controls over the camera's many video capabilities, including 1080 30p HD, with a dedicated button on the back to start shooting.
Of course, Wi-Fi is built into the camera, so there's several ways to store, save and share photos and videos, and there is downloadable Samsung software to control and assign it all.
The camera backs-up files to a computer or cloud storage service, and it streams images to other devices. It connects with smartphones, and they in turn can be used as remote viewfinders and controllers for the camera. NFC pairing with compatible tablets or phones that support that technology is a tap away.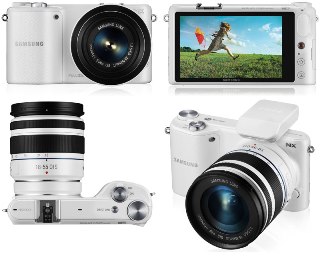 Integration with Facebook, e-mail, Picasa, YouTube, and SkyDrive accounts can all be all driven directly from the NX2000.
With its protruding lens and widescreen body, packed with all those features and more, the camera takes up like a four by four inch space. It comes with a simple strap, but it would be good to have a more stable way to carry the NX2000, such as an open-sided case with threaded bottom and wider strapping.
Priced less than the top of the line model, the 2000 is selling for $699 at top photo retailers.
-30-