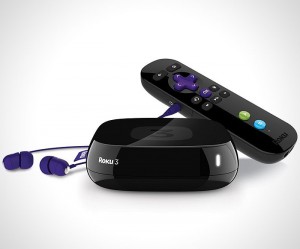 Streaming media boxes are slowly growing in popularity as their capabilities grow and consumers become more aware of what they can do, and the Roku 3 may be on its way to the top of the list, thanks to its impressive mix of simplified software and developer support for more content.
Roku has had a short history in Canada, with the popular streaming boxes only having been on the market here since last year. The Roku 3 has been in the U.S. since the spring, so the product has had time to shine south of the border before hitting the Great White North. It has sold well there, and may do the same here, given what you get for $110.
Like any Roku, this one is small enough to be compared to a hockey puck. Its low profile is complemented by a nice, user-friendly motion-sensored remote that includes a headphone jack (earbuds also come in the box) and a simple setup process. The only thing missing that you have to buy separately is an HDMI cable to connect to your TV. On the back is an Ethernet port, microSD card slot and a USB port on the side. The latter two are noteworthy for the fact that you can playback content stored on either a card or external hard drive.
With an Ethernet port available, you can choose to connect the box to your router via a wired connection, assuming your router is close enough or you're using a wireless extender or powerline adapter to route the Internet connection that way. You can also connect wirelessly through Wi-Fi, if you like.
If you have an existing Roku account, setup is very easy, but even if you don't, it's pretty painless. You will have the option to preload some "channels", which are essentially content apps, straight to the unit before you actually see the main menu. It was at this point that we started to notice why the Roku 3 took a leap forward from previous versions. The interface has been streamlined in such a way that you won't need to navigate countless menus to get to what you're looking for. You can browse channels based on genre on a vertical grid that repeats itself when you reach the end. Clicking a channel will let you see what it's about and what it offers (there are screenshots in most cases), and then you have the option to click to add it to your box.
We should note that some channels are subscription-based. Netflix and Rdio are obvious ones, but there are others too. Because you have to sign up with your credit card, no matter what (a bit of a pain, we know), adding some of those channels essentially constitutes a subscription agreement, so you would get charged whatever the stated amount is. Of course, if you already have an existing subscription with these services, then the process would be different.
Roku has always been known for offering a plethora of content with its stated 450+ channels available. We doubt most of these would tickle your fancy, but there are a lot you probably wouldn't have known about otherwise. The sheer amount of indie, classic and foreign films is impressive when you aggregate the libraries of these channels. Whether it's Popflix, IndieFlix, Vanguard or Docurama, there is plenty of video to watch. We particularly loved that we could search for any show, movie or actor and see where we could watch that programming on channels the box offers.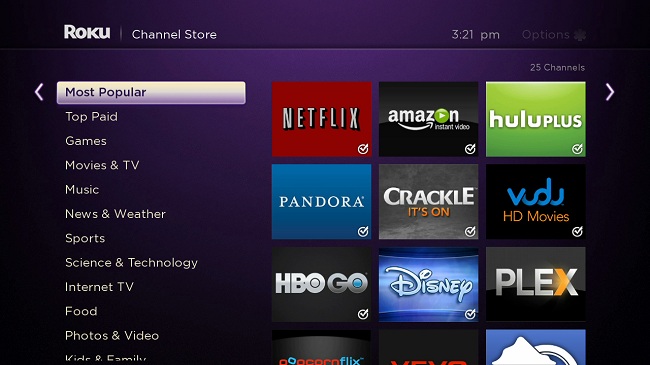 There is, however, a big omission, and that's YouTube. Roku still doesn't have a dedicated YouTube channel app like the type seen in the Apple TV, Boxee Box or even smart TVs. We're not sure exactly what the deal is, but there is at least one workaround that we found that worked. VideoBuzz requires a bit of a process to install, since you have to use a PC or Mac and follow the instructions of going into developer mode to do it, but it's fairly painless and doesn't require a lot of tech know-how.
Indeed, this is an underlying element about Roku that makes the box all the more interesting. There is a thriving private developer community that supports the Roku through unofficial channels, boosting the level and type of content available on the box.
But there is one particular issue that vexed us, and that was local playback. Plugging in an external hard drive or USB key is great, except the Roku 3 doesn't support a wide array of file formats. Streaming from a network attached storage (NAS) drive is inherently difficult, if not impossible, without some sort of workaround. A saving grace is that Plex, the excellent media software, is available. We had trouble getting our NAS (which has a Plex server installed) to work, but found much better success when a computer was used as a server instead (pointed to the folders stored on the NAS).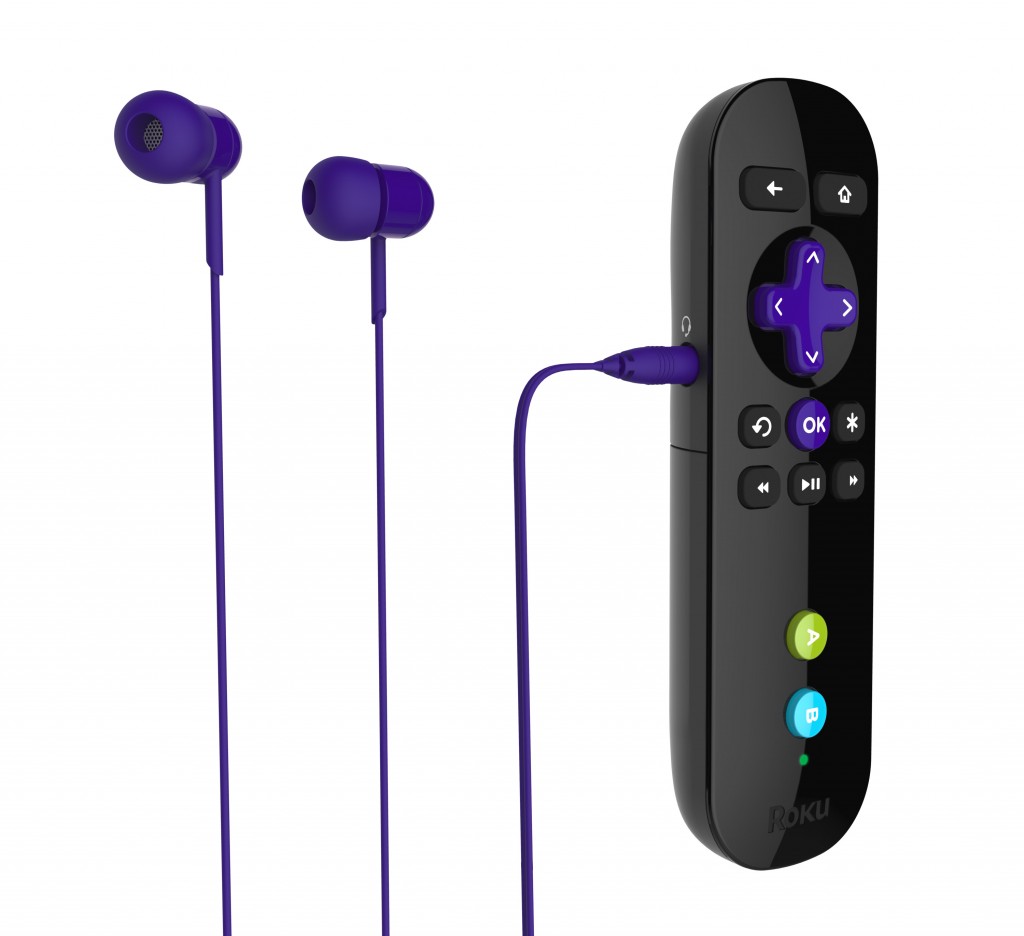 Perhaps one of the best innovations with the Roku 3 is the headphone jack on the remote. Plug in any pair of headphones, mute the TV, and you can listen to the audio without disturbing anyone else. Not only is this ideal for late night viewing, but also for cases where two people like to watch at very different volume levels or when the person sitting next to you isn't very interested in the content onscreen. We didn't bother much with the included earbuds, but they're actually better than we expected.
The inevitable question is whether buying a Roku 3 makes more sense than an Apple TV. The answer really depends on how invested you are in Apple's ecosystem. Having an iOS device that can AirPlay directly to the Apple TV is a killer feature that we love to use often, but if you don't have an iPhone or iPad, then the Roku might be a better option. Mind you, you can use the Roku iOS or Android app to stream movies you have stored on your device, add channels or use it as a remote.
Where AirPlay is an advantage Apple enjoys, the irony is that the Roku is more like an iOS device in that it's open to third-party developers. It also has a better interface than Apple has given to its "hobby", making it a real player in the streaming box category and tough competition for everyone else.