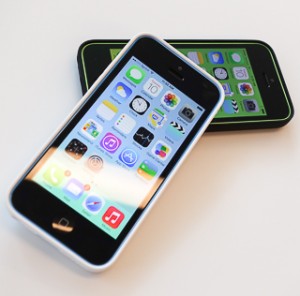 Text and photos by Gadjo Cardenas Sevilla
Apple's new iPhones, the colourful and consumer-focused iPhone 5c, as well as the forward-thinking iPhone 5s, are forking Apple's one -iPhone per year strategy. Here's how they stack up.
iPhone 5c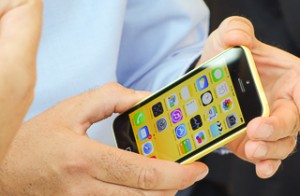 The iPhone 5c is basically a redesign of the highly successful iPhone 5 with colourful new plastic enclosures. While "beautifully, unapologetically plastic," the iPhone 5c feels far sturdier and more robust than plastic smartphones in the market today.
The iPhone 5c has a steel frame to add to its rigidity and also cleverly incorporates all the antennas seamlessly into its chassis.  Compared to various polycarbonate smartphones in the market that suffer from a somewhat inferior fit and finish, the 5c feels rigid and polished.
The iPhone 5c, which is sealed in and offers no access to the battery or internal components, feels more structurally sound than the iPhone 3G and 3GS did, and it measures up nicely against competing smartphones in the market today.
Apple's designers have gone all out with the colour theme on the new iPhones and even the installed wallpapers on the iPhone 5c reflect the exterior colour of the device. In terms of performance and user experience, the iPhone 5c is nearly identical to the iPhone 5 save for the improved battery life, additional LTE bands and updated FaceTime camera for video conferencing.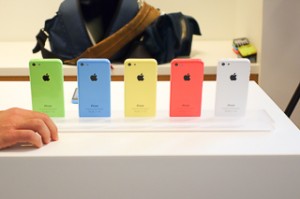 In terms of power and ease of use the iPhone 5c will be competitive with most leading smartphones in the market today. It does excel in terms of battery life and seems to be the longest running iPhone I've used based on preliminary testing. The plastic casing is lacquered and has  shiny finish that's resistant to smudges but despite being careful, I've already managed to see some fine scratches my review unit.
Those who like the new plastic look and feel of the iPhone 5c are advised to go see the smartphones at Apple retail stores or at the carrier partners. Photos somehow fail to capture just how striking the iPhone 5c colours really are.
The iPhone 5c is available  for $599 (16GB) and $719 (32GB) for the unlocked, off-contract versions. Carrier-locked versions are also expected.
iPhone 5s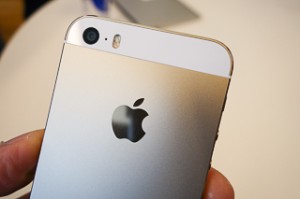 The iPhone 5s is this year's flagship iPhone and  is a huge leap forward in features and specs. It features a powerful new processor with twice the performance of last-year's version, and while that was expected, the jump to a new desktop-grade 64-bit architecture was a complete surprise.
The much ballyhooed Touch ID fingerprint reader, really works and seems developed enough as a feature to push smartphone security and access control to the next level.
It takes two minutes to 'train' the reader to recognize a specific finger, Touch ID allows for multiple fingers to be registered on the device. Now, all users need to do to access their device is to scan their finger and the iPhone 5s will unlock. Touch ID may be a cool new feature, but is not yet foolproof.
While it adds a substantial level of security and access control for iPhone 5s users, it isn't yet ready to be shared with third-party developers for integration into their apps.
German hackers have allegedly hacked Touch ID, through an elaborate process that required photographing a print of an iPhone user and then printing the photo on a transparent sheet to crate a mould for a fake finger. This method has apparently been used in the past to compromise other fingerprint-based scanners.
This year, Apple has gone for more luxurious Gold, Silver and Space Grey finishes to replace the previous version's white/silver and black/slate.
The Gold colour is striking and looks like it has been plated with 18k gold. While it may not be for everyone, there's a certain demographic that equates gold with luxury, status, and fashion and this is a desirable colour they'd be happy to spend for.
Gold iPhones were in short supply, and sold out shortly after Friday's launch. Not surprisingly, a number of them ended up selling on eBay 
for up to $1,800
 .
An improved 8 megapixel camera as well as the new iOS 7, which is available to older devices, give the iPhone 5s an impressive hardware and software one-two punch that's hard to beat.
I tested the iPhone 5s against a spanking new LG G2 and an HTC One for website speed tests on the Chrome browser running on the same Wi-Fi network.
The iPhone 5s blew by those two flagship Android phones significantly loading complex webpages a second or two faster.
Granted, the iPhone 5s has a smaller 4-inch Retina display, while both the HTC One (4.7-inches) and the LG G2 (5.2-inches) are running powerful quad core processors with 2GB or RAM, which means they should blow past the iPhone on sheer specs alone, but that wasn't the case. The iPhone 5s just made those two flagship smartphones feel slower. Proof that superior specs and faster processors alone cannot determine a smartphones true performance.
Succeeding benchmark tests have confirmed the iPhone 5s as the fastest performing smartphone in the market today.
The iPhone 5s and iOS 7 combine to give users one of the most seamless user experiences in mobile today. As for the iPhone 5c, the colour treatment may not be for everyone but this product reveals a more youthful and fun-oriented side of Apple while enhancing the key features that made all the iPhones before it such popular devices.