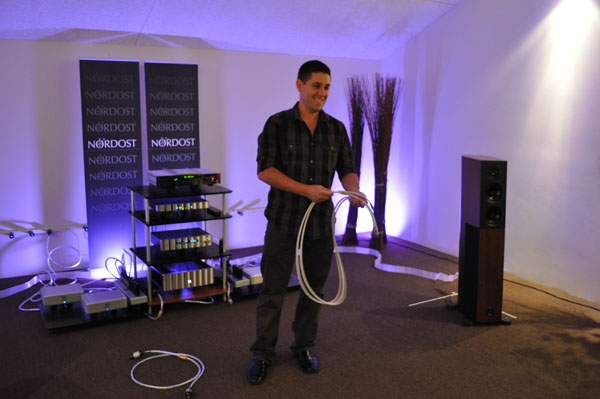 With a prime focus on the world of audio, TAVES (Toronto Audio Video Entertainment Show) will offer a series of seminars over the three-day show that will explore a number of different segments and categories, ranging from turntables, Hi-Fi, vinyl, speaker setup and acoustics, among others.
Noted technology journalist Marc Saltzman will be hosting a seminar once for each of the show's days from November 1-3, focusing on home theatre trends. He had hosted a seminar last year that focused on digital music where he talked about file formats, streaming, Internet radio and how they relate to AV receivers and speakers. This year's seminars take some of those topics a little further, offering audiophiles plenty to think about, while also introducing beginners to a different way of thinking about the audio they listen to.
The Future of Hi-Fi seminar should be an interesting one, particularly for those who either have big music libraries or want a home network solution that lets them stream their tunes in and out of the home. Having a media server is a great way to not only store a plethora of content, but is equally great when you have music server that can funnel gigabytes worth of songs, too.
The Advanced Turntable Setup seminar will be hosted in three parts by Richard Mak, a writer for TONEAudio, an online magazine that covers analog and digital sound. Mak has a particular specialty in turntable setups, and will demonstrate some hands-on tips for doing it the right way. Note that this seminar isn't aimed at beginners, but rather intermediates who already know the basics around analog setups.
Whether or not you're familiar with the wonderful world of vinyl, the How to Get the Most Out of Your Vinyl seminar will bring you up to speed on just about everything. From purchasing a turntable, to tuning it and right on down to the intricacies of preamplifiers, this should be a good one to go to.
Speaker Setup and Optimization hosted by Roy Gregory, European Editor for TheAudioBeat.com, will be all about the importance of speaker placement for getting the most of out of your music. This could be very informative for both consumers and professionals, alike, as Gregory will cover both sides.
How Does Acoustic Treatment Benefit Your Listening Room is all about making audio sound better, explaining how sound behaves in a closed area, problems with degradation and the best ways to get around those issues. This is great for beginners, but could be equally informative for anyone looking to bone up on knowledge of acoustics.
There are several other seminars going on over the course of the show, some of which include the new 4K and OLED TVs, the IMAX private theatre experience and high-end audio and music production aimed at producers and sound engineers.
Seminars are generally an hour long and are either at the same times each day or slightly varied. Others will take place multiple times per day, ensuring that attendees get a chance to sit in. A full list of the seminars with a link to the schedule can be found here. Note that the final schedule hasn't been set yet, so times are subject to change.