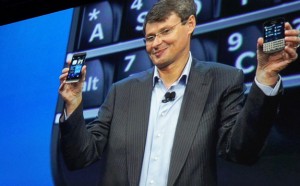 By Gadjo Cardenas Sevilla
The $4.7 billion buyout bid by Fairfax Financial Holdings has failed and BlackBerry has opted to go for Plan B and save itself. Thorsten Heins will not be part of that effort.
The beleaguered Canadian smartphone pioneer has opted to raise roughly $1-billion by selling convertible notes from the same group of investors who wanted to buy the company.
Shares of BlackBerry had dropped 19 per cent to $6.33 in premarket trading on word that Fairfax, BlackBerrys biggest shareholder, was pulling out of its deal to buy the company for $4.7 billion.
Thorsten Heins, who led BlackBerry through its most tumultuous transitory period, is leaving the company and John S Chen, former CEO of Sybase, will take over in the interim as the board finds another chief executive.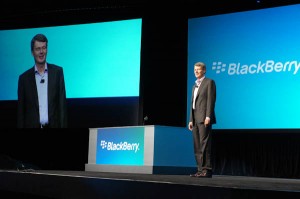 Heins was brought in at BlackBerrys most tumultuous time. Investors and the general public had lost faith in the dual-CEOs  and the company had fallen behind competition in mobile hardware and software. BB10 as well as any new devices were month's late to market.
Heins inherited a number of problems from his predecessors, most specially the perception that BlackBerry and its products were going nowhere.
Under Heins' leadership, BlackBerry had a busy 2013 launching not just an entirely new BB10 OS platform and four notable new handsets to compete in the hyper competitive mobile market. This period also saw various job cuts within BlackBerry as well as the discontinuation of the PlayBook tablet and the opening up of the BlackBerry Messenger Service (BBM) to rival iOS and Android devices.
BlackBerry has slowly regained credibility with its new products but openly spoke about its various challenges. The company put itself up for sale a month ago, and then now this unexpected development happened.
"Today's announcement represents a significant vote of confidence in BlackBerry and its future by this group of preeminent, long-term investors," said Barbara Stymiest, Chair of BlackBerry's Board. "The BlackBerry Board conducted a thorough review of strategic alternatives and pursued the course of action that it concluded is in the best interests of BlackBerry and its constituents, including its shareholders. This financing provides an immediate cash injection on terms favorable to BlackBerry, enhancing our substantial cash position. Some of the most important customers in the world rely on BlackBerry and we are implementing the changes necessary to strengthen the company and ensure we remain a strong and innovative partner for their needs."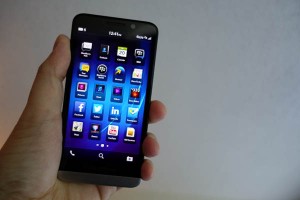 Ms. Stymiest added in the release that, "I am also pleased that John Chen, a distinguished and proven leader in the technology industry, has agreed to serve as BlackBerry's Executive Chairman. I look forward to continuing to serve BlackBerry as a member of its Board of Directors and chair of the Board's Audit and Risk Management Committee."
What does this mean for BlackBerry? For the short term, the company can continue to focus on its products and services without the impeding weight of a buyout. For the long term, things are more complicated. The board of directors is clearly running things and in crisis-management mode so it could mean a comeback of sorts. What sort of CEO can willingly take on this challenge and how does BlackBerry avoid burning through all its money as it scrambles to return to profitability.