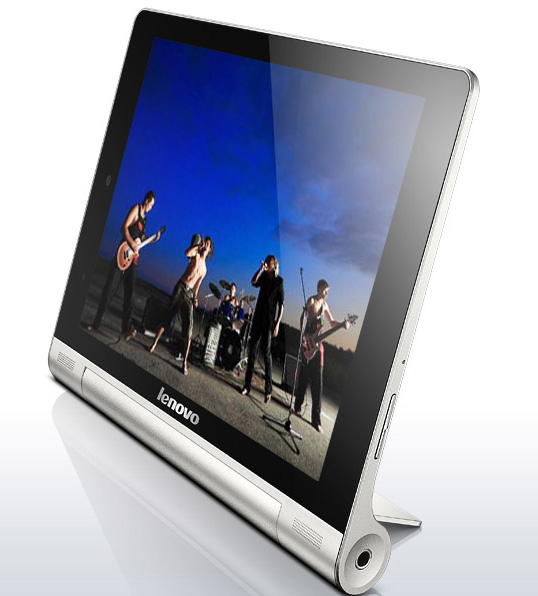 Actor Ashton Kutcher almost seems to have done an about-face, portraying the late Steve Jobs in a biopic about the Apple CEO's life, and then joining Lenovo as an actual employee to help the company engineer and design great new products. The Yoga tablet isn't a Kutcher creation but it signals that Lenovo is serious about making a quality Android tablet and building a brand around it.
Android tablets have improved greatly since the initial batch of "me too" devices that came after Apple's iPad first came to market in 2010, but many of the differentiators have less to do with hardware and more to do with the operating system itself. The Lenovo Yoga tablet takes more of an opposite approach, creating a form factor that is unique to the tablet market and offering better battery life than any other one can.
Those two points are connected by the obvious cylindrical battery that lines the bottom of the Yoga tablet, which also includes a kickstand that flips down from the back. The 10-inch model has a 9000mAh battery, while the 8-inch model has a 6000mAh battery. This is how Lenovo claims as much as 18 hours on one charge for the 10-inch model. The unique design also means it's the only tablet other than the Microsoft Surface that can be propped up without the need for a separate accessory.
The three "modes" Lenovo pushes focus on the utilitarian effectiveness of its form factor. Hold mode is good for holding the tablet like a book, regardless of whether you're right or left-handed. Stand mode is all about the kickstand making it a hands-free device for viewing content or Skype video calls. Tilt mode is good for laying it down with the battery at the top to view or type at an angle.
It looks nice and polished with an aluminum-heavy design and just 3mm at its thinnest point. For an affordable price, it looks like a premium product.
That's not necessarily the case on the inside. Nor does it seem to be Lenovo's approach, either. The screen is the most polarizing part of the device, largely because it's a lower resolution (1200 x 800) with a lower pixel density. This makes everything look less sharp and defined than on competing Android tablets like the Samsung Galaxy Tab or Nexus 7. Watching something in HD is fine, but it's not going to have the same effect visually, and that's a downside that might be enough to drive some users away. Of course, it looks better on the 8-inch model because of the tighter density, putting it more in line with what the non-Retina iPad Mini offers.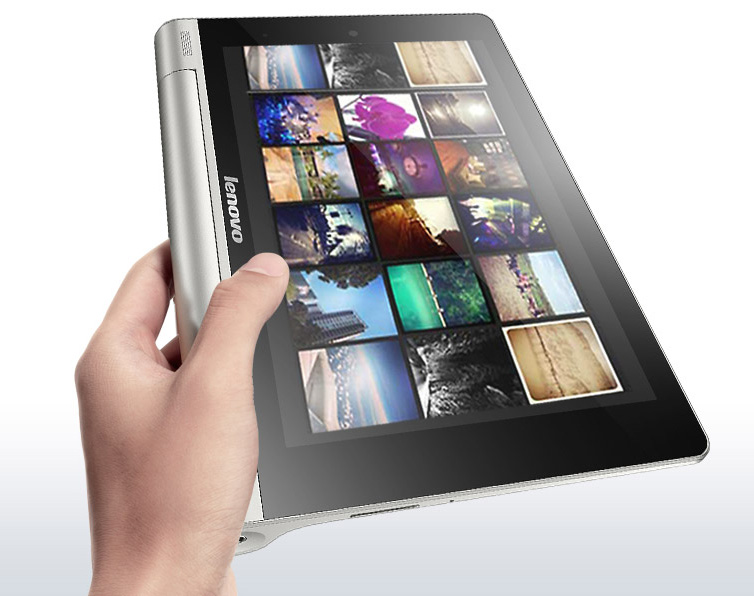 The components inside aren't especially impressive, but they are serviceable. The 1.2GHz processor and 1GB of RAM simply can't run with the best on the market, but they can manage against more affordable units. The 16GB of internal storage can be boosted with up to another 64GB more through the microSD card slot. The full gamut of Google Play is available here, and apps and games generally run without any real problems. High-quality games may have some hiccups along the way though, so be aware that you may not get an overly consistent experience.
Strangely, Lenovo opted to go with an app drawer interface that resembles iOS a little too much. There is no app tray separate from the home page as usually found in Android devices. Instead, apps populate what could be an almost endless array of home screens. Having many apps this way encourages creating folders to clean up the clutter, so if you are familiar with iOS, you will feel right at home with this layout (as would app-heavy Android users). This is the only Android tablet we've seen that does it like that, though we expect users might have mixed feelings about it.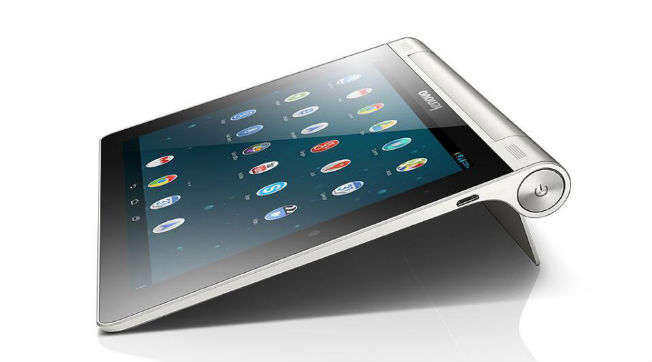 Despite its limitations, we actually really enjoyed using the Lenovo Yoga tablet, finding its design to be more convenient than many of the other Android tablets on the market. Admittedly, the different form factor makes portability a little more challenging because of that bulge on the bottom, but it doesn't prove to be as big an issue as you might think. We also liked the fact we could use this hands-free when watching video almost all the time. As long as we had something to prop it up on, we had no problems. We just wish that Lenovo had added the option to change the angle in case the standard one didn't work.
For the price, this is a good deal, even though there are others within the same price range. To get a good 10-inch tablet for $300 isn't common. Lenovo also sells a 32GB model for $339 on its website.
By comparison, the Galaxy Tab 3 10 and Nexus 10 are each $400 (though a newer Nexus 10-inch model looks to be imminent). The Amazon Kindle Fire HDX 8.9-inch starts at the same price. Even the 10-inch Kobo Arc 10HD comes in at $400. If budget is a factor, the Yoga tablet is a good alternative and one that you definitely won't have to charge as often.