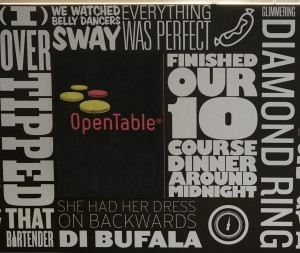 By Gadjo Cardenas Sevilla
We recently spent some time at OpenTable's offices in San Francisco  prior to the company's acquisition by Priceline for $2.6 billion. Here's what we learned.
A great example of a service that started out during the early days of the Internet and World Wide Web, OpenTable's reservation service has thrived in the age of smartphone apps.
OpenTable is the eminent online and mobile restaurant reservation app. The company pioneered web-based reservation for San Francisco area restaurants in 1999 and has since evolved to serving over 30,000 restaurants globally.
The service ensures that customers can get a table when they reserve online or through the apps. OpenTable recently got acquired by online reservation juggernaut Priceline, it was purchased for US $ 2.5 billion and joins the online travel agency's stable of reservation solutions. This makes Priceline a formidable one-stop shop for anyone looking to book flights, hotels and now restaurant reservations.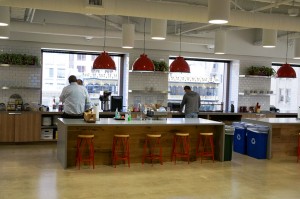 We visited OpenTable to learn about their mobile initiatives as well as get a handle on their corporate culture and see what a successful tech company looks like from the inside
OpenTable has a wealth of user reviews on thousands of restaurants dating back to the early 2000's, with this information, they can generate amazing lists on where to find the best dishes, drinks or desserts based on user feedback, this is a powerful amount of information.
OpenTable's even put up a wall full of quotes from customers rating various establishments.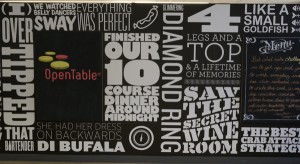 Practicing what they preach, OpenTable is made up of people who love food. There were various kitchen areas where staff could prepare restaurant-quality meals and all the ingredients as well as the necessary cooking gadgets and appliances were at their disposal.
We learned that OpenTable was made  up of wicked smart teams of engineers and developers who pore over every detail of the reservation process in each of the restaurants that subscribe to their service.
OpenTable is a success story in the increasingly competitive service app environment. They have branched out to guest management, table management and seating, Point Of Sale integration ,as well as reports and even mobile payments.
I like that OpenTable started out as a local venture and that it grew organically once the reservation model was proven. I also like that they were a Web 2.0 company which evolved its business to mobile. They certainly learned a lot from their experiences and can now bring value to Priceline as one of the most experienced online services that merges lifestyle and the love of food with great technolgy.