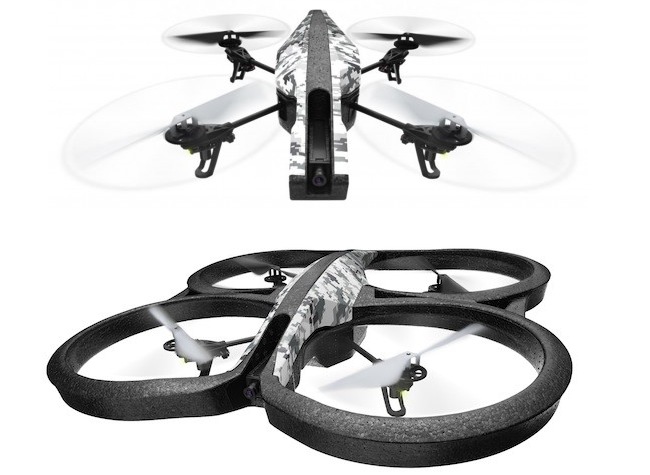 Parrot's A.R.Drone has gone through a couple of iterations so far, with the 2.0 model now in an "Elite Edition" that seems to indicate a solid push upwards, though this may be more a case of style over substance. No matter the focus, the unique quadricopter is still a lot of fun no matter what moniker you attach to it.
If you're a bit confused, don't feel bad. After the launch of the original model in 2012, there are now three variants out on the market. The Power Edition is essentially the same model and design, except it comes with two 1,500mAh batteries and three sets of coloured propellers. The GPS Edition doesn't have the batteries and coloured propellers, but includes Parrot's Flight Recorder GPS, which improves stabilization and allows users to map out flight paths for the drone in advance.
The Elite Edition offers none of those things, focusing more on the aesthetics, which include sand, jungle and snow camouflage hulls, giving this model a slightly more military look. Of course, you won't be firing any weapons from this thing, but the design aims to cater to those who want something a bit less flashy. Though it comes with the smaller 1,000mAh battery, it can also run on the larger 1,500mAh ones, too. Even the Flight Recorder GPS can work with the Elite model, since Parrot had designed accessories to be interchangeable across the lineup. You would just have to buy them separately, which is worth pointing out, given the drone's $350 price tag.
If you're unfamiliar with Parrot's drone, it comes with both an indoor hull (with foam rings to keep them from chopping things up indoors) and an outdoor one that improves its performance when dealing with wind. It's controlled via the free FreeFlight app on iOS, Android and Windows 8.
Other than its look, there isn't anything uniquely different about the actual performance of this Elite version. That's not to knock it, necessarily, but more to point out that this isn't a stepped up iteration of the 2.0 drone. The word "Elite" might suggest that, but it flies and maneuvers the same as the others. It's the accessories that make the difference between them.
Parrot has been active in supporting the whole line, updating the app to push the drone just a little bit further in ability, but these features aren't necessarily exclusive to one over the other, unless they're specific to the accessories that come with it.
Here is a short video showcasing a little bit about the Elite Edition.