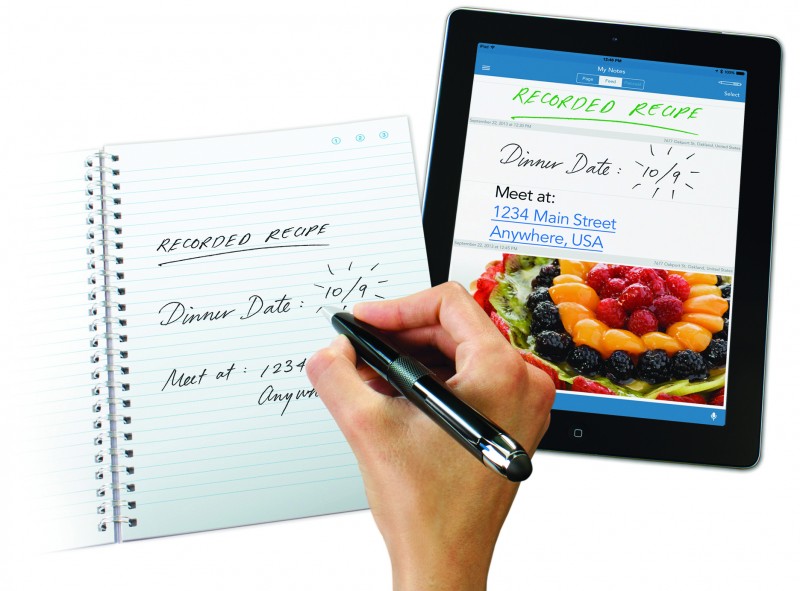 Livescribe has had a good run for the last several years making smart pens that have turned ordinary penmanship on paper into digital content that can save precious time in productivity. The Livescribe 3 Smart Pen continues the tradition, but does so in a way that walls off users who don't have an iPhone or iPad.
The pen may be a bit fat, but that's by design. Packed inside are a ballpoint pen, infrared camera, rechargeable battery, some flash memory and Bluetooth. What is missing from that list is a microphone and internal storage. Those two omissions would seem odd for anyone who has used a Livescribe pen before, but there's a reason for it, and it has everything to do with the tight iOS integration inherent in this model.
The pen works with the iPhone (4S or later), iPad (3rd-gen or later), iPad mini and iPod touch (5th-gen or later), which must be running iOS 7. It doesn't work with Android, BlackBerry or Windows Phone.
The free Livescribe+ app is the entry point to setting up the device and pairing it with the device of your choice. The pen can be connected to as many as four at a time, so if you have two iOS devices that are compatible, you won't have to choose between them. Twisting the pen open initiates Bluetooth pairing, and once complete, it's ready to go.
This marriage is not only one of convenience, but also of necessity. While you're able to write or doodle whatever you like on the included notebook with the special dotted paper, it's the Livescribe+ app that actually digitizes and prepares the content. Notebooks and their pages are entirely digitized, meaning you can see them on your phone or tablet at anytime. Write something in the book and it is translated in real-time to the app.
When viewing a page on the app, the menu at the top splits it into three functions. Page View is the basic view of what you jotted down on the page, Feed View divides notes into smaller snippets sorted in a timeline and Pencast View accesses recorded audio synced to your notes. Swipe to the left at anytime and you get the menu for other features and settings.
Once we began writing in the notebook, we could see our handwriting translated over to the app, albeit with a bit of a rougher interpretation. If your penmanship is more like a doctor than an artist, then you may end up wondering what some words actually say. This is entirely subjective, mind you, so experiences may vary. As has been the case with previous Livescribe pens and notebooks, there are smart buttons on the bottom of every page for easier navigation, though again, it's the app that is truly in control.
Other Livescribe pens had a microphone to record audio while the pen wrote notes following along. It was a sound idea, except it didn't always work flawlessly in practice. Here, it's the iOS device that acts as the recorder, which is great for the fact it means a noticeable upgrade in microphone quality. Updates to the app have seemed to fix an issue whereby pencast recordings wouldn't sync properly with notes. During playback, text will turn green when the audio hits that part, letting you know where you are at all times. Tap on a word and you'll hear when that word was actually spoken.
Turning handwritten notes into actual digital text is easy enough. We swiped snippets left to right to make it happen, though we found we had to use the edit menu to correct mistakes. The default transcription language is set to U.S. English, but there is a Canadian one that you can download for free through the App Preferences under Settings. A number of other languages are in there as well.
You can also share notes through Evernote, Dropbox, Kindle, and other note-taking apps available for iOS. Battery life should top up at about 12-14 hours.
The feature set is impressive, and performance equally so when everything is good to go. The issue we found was that there was no way to trigger recording using the pen alone. If the phone or tablet was asleep, low on battery or dead, there was no way to record any audio unless we had the app right there ready to work. To be safe, we opted to put the phone in Airplane Mode, as we weren't sure if incoming phone calls or text messages might pause or stop recording altogether.
While we liked the way the pen worked in tandem with the iPhone or iPad, it meant that we had to hold three things in our hands to just record what was being said. Without it being out in the open — and the app front and centre — the smart pen was limited to being just a pen. This may not be so much a problem if you're in a stationary position, listening to a lecture or doing an interview, but the combination isn't conducive to more spontaneous or impulsive recording situations.
The lack of Android support is also a drag, but at least there's the Livescribe Sky WiFi Smart Pen for that.
Had this pen included a mic and some internal storage, in addition to the existing functionality with iOS, it would be hard to find any fault with it. As is, it's great for the iOS user, especially iPhone or iPod touch, who can juggle the pen, notebook and device anytime and anywhere.