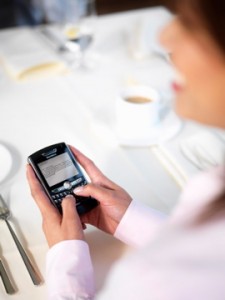 It's the 21st century. so we'd like to think that the gap has closed between men and women in the workforce, and issues like pay equity and an accommodating work environment have long disappeared. But that isn't the case. Women in the workforce still face a number of challenges. And according to a new study, those challenges can vary tremendously depending on where you live in Canada.
The study, released in April from the Canadian Centre for Policy Alternatives (CCPA), reveals the best and worst cities to be a working woman in Canada as compared to men. It includes 20 metropolitan cities, and looks at five criteria: economic security, leadership, health, personal security, and education.
The results indicate that the best place for a working female in Canada is Quebec, and the worst is Alberta.
It isn't surprising that Alberta fared the worst, considering that the province is a primary source of crude oil, and serves as home to big industries like mining and construction. Naturally, while more and more women are gravitating to field services, just as in the tech industry, we haven't quite reached an equal balance. Calgary ranked 17th on the list, bringing the province down further. Women live in the lowest levels of poverty there as well.
Quebec is host for sectors like aerospace, information and communication technologies, biotechnology and the pharmaceutical industry, so it's the most appealing province for women. In fact, Quebec City, Montreal, and Sherbrooke all fell within the top-10 best cities for women in the CCPA study. And women can expect to earn the most in Ottawa-Gatineau. That region, along with Quebec City, also has the smallest wage gap, likely due to the large number of public sector jobs. Halifax, NS has the biggest wage gap between men and women.
Toronto, ON, known for its big city office jobs, ranked sixth on the list. Interestingly, 35% of women in the Kitchener-Cambridge-Waterloo area, about an hour from the city, report experiencing high stress levels. That could be due to the number of major tech startups emerging from this burgeoning Silicon Valley-like area. BlackBerry is notably located in Waterloo, along with the University of Waterloo and Wilfred Laurier, two educational institutions known for breeding great entrepreneurial minds. When compared to men, however, the stress level gap widens in Ottawa, where women are twice as likely to report high stress than male residents.
It's somewhat surprising that Vancouver only ranked 13th on the list. The Economist Intelligence Unit, an independent business within The Economist Group, has acknowledged Vancouver as the first city to make it into its top 10 list of the most liveable cities in the world for five years in a row.  At least that statistic can be taken literally for women, as female residents of the British Columbia city tend to have the highest life expectancy of all other major cities in the study.
Kate McInturff, a Senior Researcher at the CCPA, suggests that there are things the lower-ranking cities and provinces can do to improve the situation for working women, such as taking measures toward pay equity, and offering affordable childcare and family leave policies that would allow women to take on more higher-level jobs. In fact, these are the very measures that have helped lead to a better environment for working women in Ottawa, ON, Victoria, BC, and Quebec.
Notably, when it comes to education, the gap between men and women is fairly narrow. Women are "slightly more likely than men" to have completed a secondary education, though this flips in favour of men when looking at trades and apprenticeships, where men are twice as likely to have completed such training. Again, that would explain the disparity in cities where the trades dominate, such as Calgary and Edmonton.
Overall, women are three times more likely than men in Canada to hold part-time jobs, and almost twice as likely to work for minimum wage.
The biggest issue presented by the study is that, even in Quebec where it's considered a top-notch place for working women, there's still a low rate of promotion into leadership roles.
It's clear that while a lot has been done to progress the landscape for working women, there's still a lot more we can do. Getting women more involved in high-paying trades, and interested in high-level positions at growing tech companies, may help to close the gap between the sexes. In many locations, however, what's really needed to kick things off is a more progressive attitude toward the female worker.