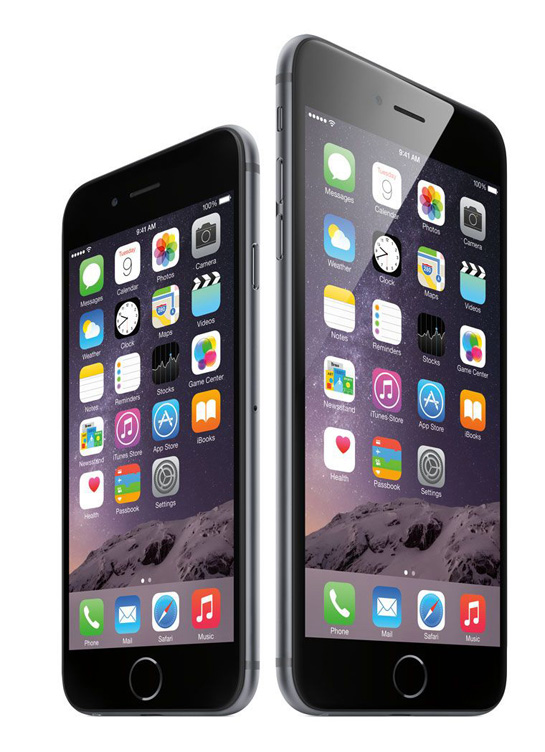 As is typically customary of Apple, the company has released its latest major iOS 8 update today two days before the iPhone 6 and 6 Plus come to market. The update, which will come preinstalled on the new handsets, adds new features and upgrades that are compatible going back to the iPhone 4S, the iPad 2, both iPad minis and fifth-gen iPod touch.
First introduced at Apple's Worldwide Developer Conference (WWDC) in June, iOS 8 is less the interface revamp that iOS 7 was and more about usability and features. Included in the rollout are two new core apps, Health and Tips, the former being Apple's foray into health, and the latter offering a tip on using your iPhone every week.
Where iOS 7 changed the overall look and feel of the platform, iOS 8 is a bit of playing catch-up with what the competition has done, as well as building a sturdier bridge between iOS and Mac OS X Yosemite, which is set to go live very soon.
One of the main bridging features is iCloud Drive, basically simplifying the way files can be shared between a Mac and iOS device. Being cloud-based, any file stored on the drive can be pulled down from a Mac, or compatible iPhone, iPad or iPod touch. Changes can be made to a file, saved and re-uploaded to the drive, making it possible to pull that saved file again from another device. This will be open to third-party developers, which explains why the integration is a bit spotty on the iOS side so far.
iCloud Photo Sharing and Family Sharing allow for more of an open table approach to content and apps between family members and friends.
iCloud pricing has been changed to reflect the new integrative approach, with 20GB now costing just 99 cents per month. It's $4/month for 200GB, $10/month for 500GB and $20/month for 1TB.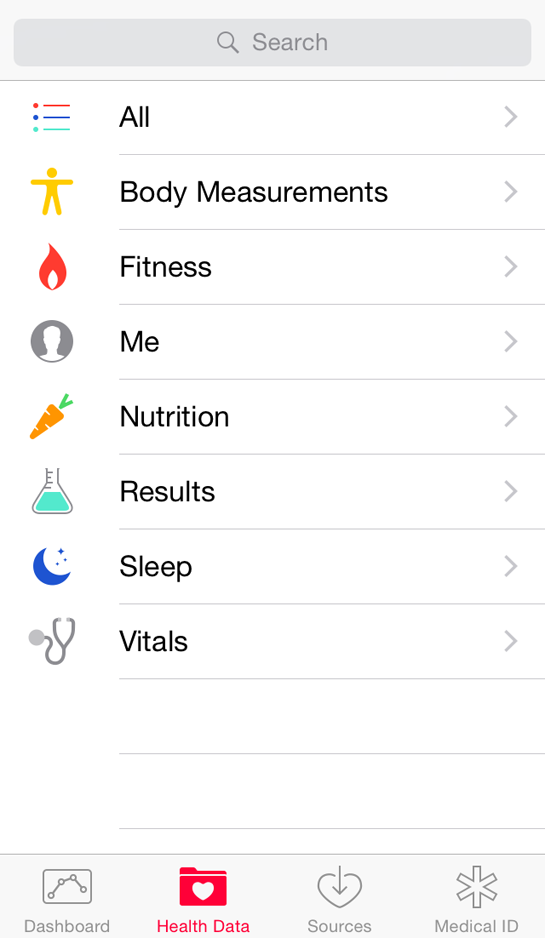 The Health app is an obvious addition that is really only a spare part on its own. The main purpose for its inclusion is to actually help developers and fitness and health device manufacturers comply with the app, which will ultimately act as an aggregator to collect and make sense of the data coming from them. While Apple is a bit late getting into the health trend, it's a good idea to try and create a repository rather than a 'me, too' app that does what other products already do.
That's not to say that it's useless until that happens. Start walking around or exercising with the phone in hand or pocket and the data streams in. But without the proper sensors in the older iPhones (iPhone 5s and earlier), plus lack of scope in capturing all the data possible, the app's true capability will only become clear once other apps and devices tie in.
Some of the other new abilities unlocked here will take a little time to show, like Extensibility, which allows developers to tie in their own apps to others. This solves the problem of having to exit from one app to continue an extended function in another. For example, if you were playing a game and wanted to message someone about it, you could ostensibly do so without having to exit the game, so long as the game developer had tied it to Apple's Messages app.
As is right now, if a text message comes in while you're doing something else, dragging the banner down from the top will show a text box that you can send a reply through. If you don't get to the banner on time though, you will have to pull down the notifications pane and swipe left on the message you want to reply to.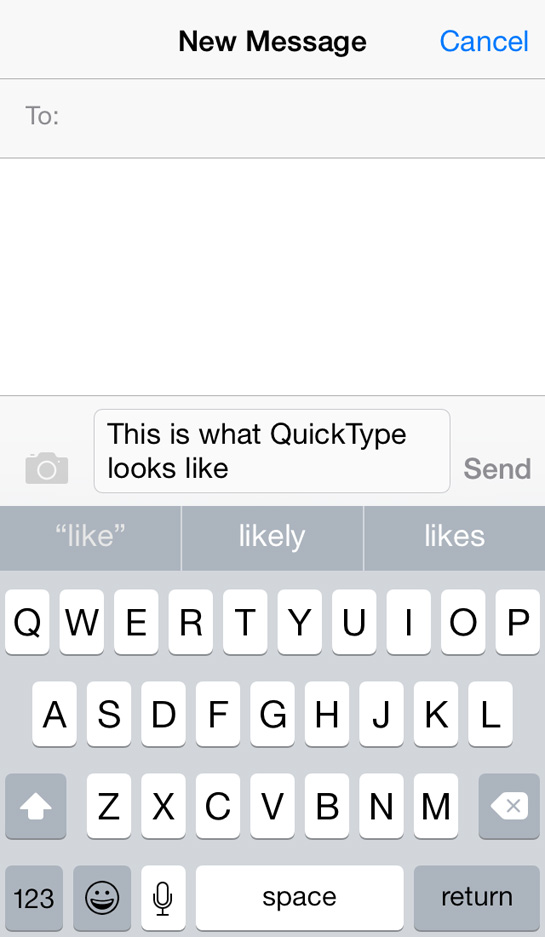 Other changes are very obvious. Texting and messaging apps now display predictive words called QuickType above the keyboard to speed up the process. Having been done for a long time on Android, BlackBerry and Windows Phone, there is nothing new about this feature. However, the openness of iOS 8 does pave the way for third-party keyboard apps to replace the default Apple one. Indeed, SwiftKey, TouchPal and others are already being optimized to do just that with iOS 8. After downloading them, they would have to be added under Settings>General>Keyboard.
The Notifications drop-down panel is more executable now that developers can actually do things with it. The same is true of action panels, or Share Sheets, that were typically limited to sharing on a few social media sites, and basic tasks like messaging, emailing, printing and saving. Developers will be able to tailor these to their own apps, which in theory, should limit the steps to performing certain actions on other apps. As an example, you could choose to share something on a different social network, or upload a file to a service of your choice.
Another notification tidbit is that you can now eliminate them individually, as opposed to tapping the X symbol twice to get rid of all of them from one app.
A particular favourite feature is the integration of camera apps. Snapping photos with the default Camera app is one thing, but editing can be done using Camera+ or another app that can integrate directly, all of which can happen without actually exiting and launching anything else. Not only that, but these apps can also take full advantage by offering manual controls, like shutter speed, exposure, ISO and white balance.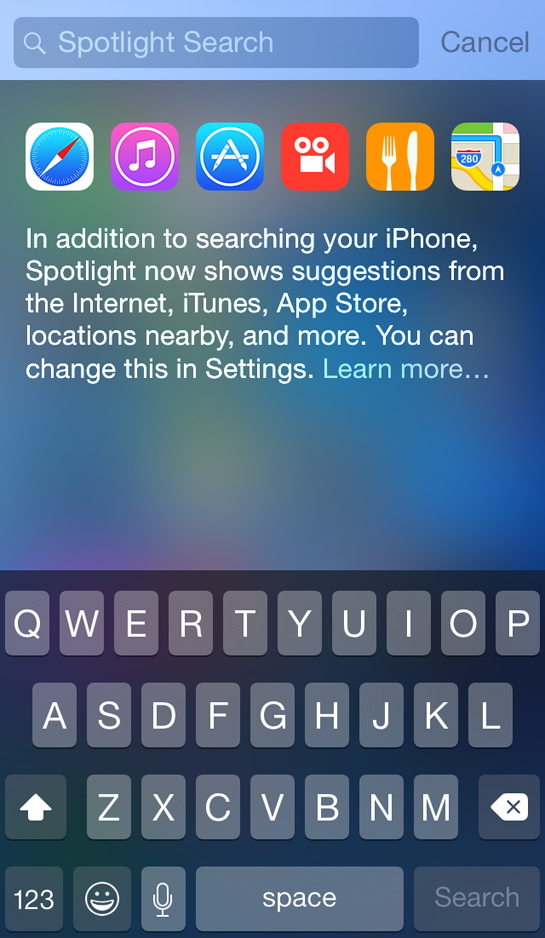 Spotlight now gets better integration with just about everything. We've always liked it on the iPhone for launching apps or searching for specific emails or contacts, but iOS 8 opens the door to searching Bing, Wikipedia, business locations on a map, movie times, songs on iTunes and more. This also directly links to Spotlight on OS X Yosemite, where it has been enhanced to perform the same way.
Siri also gets a nudge towards more integration and intelligence. Shazam integration was initially shown at WWDC, where asking the voice assistant what you're listening to will utilize Shazam's algorithms to come up with the answer. It's also faster at registering your voice in that it will write down what you're saying as you're saying it, instead of pausing and then doing its thing. It can also do hands-free, albeit only when plugged in to a charger. Saying "Hey Siri" will bring it to life, letting you dictate what you want without touching the phone. It's unclear as to why Apple kept a lid on this feature, given that it's been a staple of certain Android and Windows Phone handsets for a while now, but it could be that battery life was the primary concern.
There is so much more that has been crammed into the update, from little nuances with the Mail app, to the fact the Touch ID sensor introduced in the 5s is now being opened to developers. Wi-Fi calling is one of the most intriguing that we're looking forward to, but at the moment, only T-Mobile in the U.S. has the feature, with AT&T to follow next year. No word on when Canadian carriers will flip that switch.
HomeKit will be interesting to watch in the coming months and years, as Apple officially enters the Internet of Things, where its devices will interact directly with appliances and other home automation gizmos. Again, being a little late to the party, Apple has benefitted somewhat from other manufacturers that have used iOS as a key platform for expanding their own offerings. HomeKit will centralize and aggregate these connections, much like HealthKit does for health and fitness data.
In the end, iOS 8 is a stellar update for Apple's users, though it's not really a groundbreaking leap forward that pulls the industry along with it. Many of the features noted above have been offered with Android, in particular, for some time now, but they seem to work well in iOS just the same. If this only spurs more innovation from all sides, consumers will inevitably benefit from the competition.